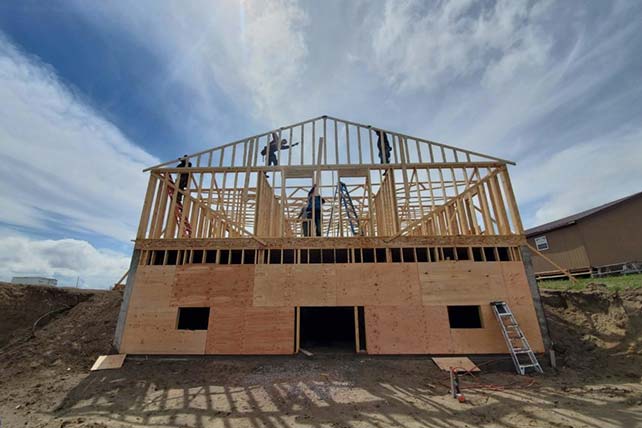 PORCUPINE, S.D. (BP) – Psalm 34:8 urges the reader to "taste and see that the Lord is good." That bit of Scripture becomes personal for Matt Hadden and others operating Čhankú Wašté Ranch, located on one of the larger Indian reservations in the country.
Pronounced CHON-koo WASH-tay, it means "The Good Road" in Lakota. For many residents on the Pine Ridge Reservation, it is also the resource for better eyesight, dental care and camp activities for children where they learn about Jesus.
Hadden's road to get here began in August 2011 when, as a youth pastor at Harvest Park Baptist Church in Newnan, Ga., he led a mission trip to the area.
"The Lord used that week to call us," he said. "Six months later, we were up here."
That began with Hadden serving as an associate pastor/children's camp director, then pastor/children's camp director, then church planter/pastor/children's camp director. That included preaching in two locations – Creek's Fellowship in Porcupine as well as a church plant 25 miles away.
Early 2020 brought a lot of changes to his growing ministry. In January, Hadden met with Send Relief representatives to sign a contract for the 150-acre ranch to become a Send Relief center. Those additional funds boosted the ministry possibilities and contributed to the arrival of roofing and other materials March 18.
RELATED: SBC Pastor Uses Native American Resolution to Minister to Survivors of Forced Conversion
"We had mission teams signed up and ready to help us [build it out]," he said.
But things officially shut down March 20 with the COVID-19 pandemic. Hadden couldn't even leave the reservation without a pass.
But he had time, and he had a hammer.
"I was walking around the property one morning, leaned against a block wall, and started praying," he said. "My dad used to sing that song, 'If I had a hammer.'
The lyrics met the situation.
If I had a hammer
I'd hammer in the morning
I'd hammer in the evening
All over this land…
"I thought to myself, 'I have a hammer,'" he told Baptist Press.
Hadden's father, David, had passed his construction know-how to his son. The following morning brought Matt, alone, to begin the framing for a new building.
Friends joined in, contributing while respecting laws and COVID recommendations.
Buildings began to take shape, but so did a desire for the church to resume in-person meetings after three months of canceled services due to government mandates. When a local casino opened up, Creek's Fellowship spoke up on regathering. They ended up doing just that in August 2020.
While tension existed with local government and COVID policies, that was not the case with the church's respect toward the general population.
"The Lakota people are some of the most resilient you'll ever witness," Hadden said. "There are many phenomenal qualities in this culture."
Culturally, however, tribal history and its connections with churches across the prairie remain complicated and impact outreach today.
Oklahoma Southern Baptist pastor Mike Keahbone, whose ancestry includes heritage from the Comanche, Kiowa and Cherokee tribes, stood at the SBC annual meeting last summer to present a resolution titled "On Religious Liberty, Forced Conversion, and the Federal Indian Boarding School Initiative Investigative Report."
The resolution came a month after the release of a federal report that presented instances of forced conversions and assimilation among Native Americans in the form of mandatory boarding schools. Southern Baptists were not specifically named in the report, but it did state that churches of many denominations participated.
Hadden has observed those lingering effects.
"Less than 5 percent on the reservation claim to know Jesus," he said. "We're trying to overcome those hurdles."
The wellness center is helping do that through addressing two specific needs – dental care and optometry. Teeth are pulled, but also saved. Dentures are crafted; glasses given.
It's a matter of meeting needs that may be traumatic for people, Hadden said, and answering that through action as well as the Gospel.