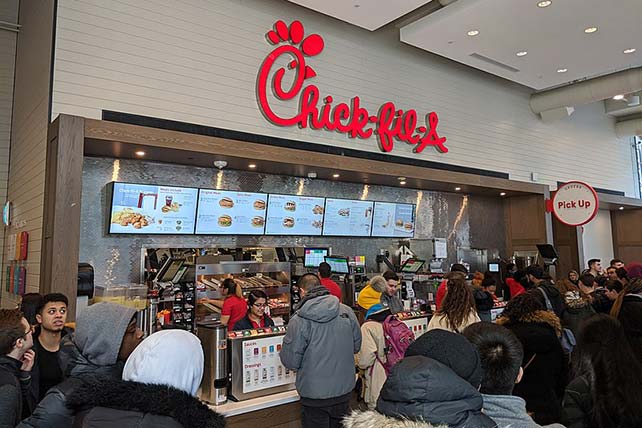 Chick-fil-A board chairman Dan Cathy recently shared with Corporate Competitor Podcast's Don Yaeger that the purpose of America's #1 favorite restaurant's is "to glorify God by being a faithful steward of all that's entrusted" to them.
Cathy spoke to that purpose throughout the interview, detailing how his father, S. Truett Cathy, set out to create a company that cares for people by providing exceptional service.
The 76-year-old restaurant opened its first location in 1946, then called the Dwarf Grill, later changing its name to Chick-fil-A in 1967. Today, the chicken sandwich king has over 2,900 stores in the United States—a number that continues to increase year after year.
In 2021, Dan Cathy passed his CEO duties onto his son, Andrew Truett Cathy, but still remains the Chairman of the Board, where he helps the company strive to be the "Ritz-Carlton" of the fast food restaurant business—not just in the quality of food and the appearance of restaurants, but in the service people receive when they come to a Chick-fil-A.
RELATED: Chick-fil-A Continues 8-Year Reign, Keeps Crown of America's Favorite Restaurant
"We had to pay more, we had to train better, we had to reinstall a better language system about the expression 'my pleasure' versus 'yeah, uh-huh, no problem,' those sorts of things," Cathy said. "Doing so, though, pays huge dividends. People are hungry to be treated with honor, dignity and respect. As delicious as our chicken bite sandwiches are, our fresh-squeezed lemonade and those hot waffle fries, people are in greater need of being restored and encouraged from an emotional standpoint."
"My whole view of our business, our industry, really our ministry to society, was dramatically elevated just in that one definition, that we're here to help restore people's lives. They're in difficult circumstances. They've got challenges going on at home, challenges going on at school, challenges going on at work," Cathy said. "But when they come through that Chick-fil-A drive-through or walk in our restaurant, we have an opportunity to give them a word of encouragement and positive affirmation."
Most people know that Chick-fil-A isn't open on Sundays, something that has been part of the Cathy family's leadership since the first restaurant opened. It was back then that Truett decided that honoring God was more important than financial success.
"At Chick-fil-A, we are very grounded on our corporate purpose, to be a purpose-driven organization," Cathy explained. "That purpose is defined in the statement that we're here to glorify God by being a faithful steward of all that's entrusted to us and have a positive influence on all who come in contact with Chick-fil-A. We want to impact people's lives. We want to be a good steward of what we've been entrusted with."
RELATED: Chick-fil-A Has Been Labeled As Anti-Gay, yet Maine Location Is Owned by Same-Sex Couple
Cathey stated, "We're not going to take any of this with us. We only have it for just a moment in time, so let's be a good steward of it. And then, ultimately, let's acknowledge our Creator. Let's have a sense of humility, let's have a teachable spirit, let's be willing to be submissive, all of which we learn in our faith experience to honor the Lord and seek to honor him in all that we do."