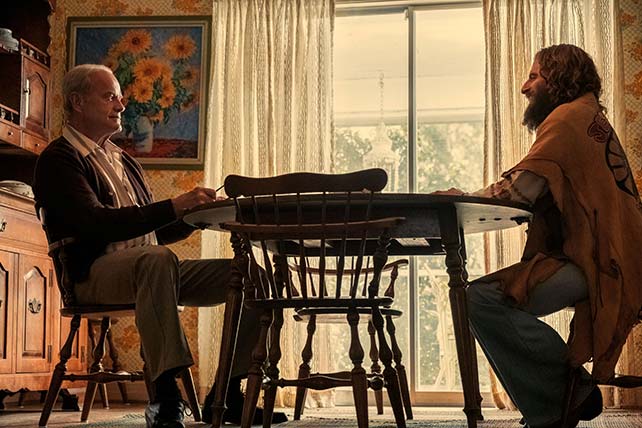 "Jesus Revolution" co-director Brent McCorkle recently discussed why the filmmaking team chose not to address hippie Lonnie Frisbee's sexuality in the film.
MCorkle's remarks came on an episode of entertainment journalist Brittany Valadez's "Bravely Daily: From Pop Culture to God Culture."
The successful Christian film, which surpassed the $30 million mark over the weekend, tells the story of the Jesus Movement of the late 60s and early 70s. "Jesus Revolution" specifically focuses on the story of how Harvest Christian Fellowship senior pastor Greg Laurie came to salvation and was called into full-time pastoral ministry at the age of 19.
Frisbee, played by actor Jonathan Roumie of "The Chosen," has been described by Laurie as having played "a key role in the last great spiritual awakening in America."
Laurie shared with podcaster Ruslan that Frisbee prophesied over him when he was a young man. During a time of prayer, and before Laurie had ever preached a single sermon, Frisbee turned to him and said, "The Lord just told me you're going to preach to thousands of people around the world."
RELATED: Greg Laurie Shares What Happened to His Mother After the Events of 'Jesus Revolution'
According to multiple reports, Frisbee lived a lifestyle that involved drugs and sex, including homosexuality, before finding Jesus. The film briefly hints at Frisbee's past struggles when he is telling Chuck Smith his story, "Man, we did everything and maybe everyone."
In the film, Frisbee is married to his wife, Connie, but the story alludes to the couple having some marital issues. Not long after Frisbee and his wife moved to Florida, which is depicted in the "Jesus Revolution," they divorced due to Connie's alleged infidelity.
Frisbee later returned to homosexuality and eventually died of AIDS.
Laurie recalled when he visited Frisbee when Frisbee was in hospice care, saying, "I went to see Lonnie, and I remember it so vividly. The room was very dark. There was a big fire in the fireplace. Lonnie was emaciated. He looked horrible but as he began to speak, I sort of saw that old Lonnie spark."
RELATED: Greg Laurie: 'God Uses Flawed People' Like Lonnie Frisbee
"Lonnie believed that God was going to heal him. He believed he was going to preach, but I could see this was not going to happen," Laurie continued. "I don't know if that was the effects of the AIDS or if he was delusional, but it was clear that he was repentant. He knew what he did was wrong. He never was an advocate for any of it, but he fell away so, okay, that may trouble some people."