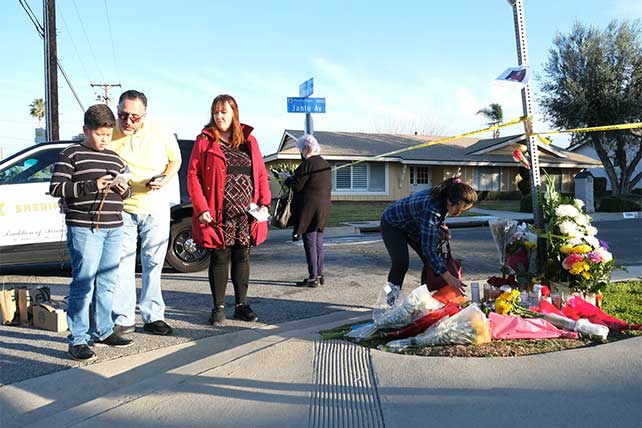 LOS ANGELES (RNS) — The suspect arrested in Saturday's shooting of Roman Catholic Bishop David G. O'Connell is Carlos Medina, the husband of the bishop's housekeeper, according to Los Angeles County Sheriff Robert Luna. The sheriff made the announcement at a press conference Monday afternoon (Feb. 20) with a visibly distraught Archbishop José H. Gomez, O'Connell's superior, who called his auxiliary bishop "a good friend to Los Angeles."
Medina, 65, was arrested at about 8:15 a.m. Monday in the city of Torrance. No motive was given, but Luna said the suspect had previously done work around the bishop's house. Detectives are looking into whether there was a dispute over money.
The housekeeper is cooperating with the investigation, Luna said. It is believed that a deacon called 911 after going to the bishop's home to check on him because he had been late to a meeting, Luna said.
A somber Gomez, his voice was trembling and seemingly close to tears, said of O'Connell: "He was a good priest, and a good bishop, and a man of peace. We are very sad to have lost him."
At one point, Luna embraced Gomez and told him in his ear, "God is with you."
RELATED: Los Angeles Bishop David O'Connell Dies in Shooting
In the hours since O'Connell's body was found a stream of neighbors and Catholics from around the Los Angeles area visited the home in Hacienda Heights, a suburb in San Gabriel Valley, after the news spread that the bishop had been discovered with a gunshot wound to his chest.
Mourners prayed the rosary and left bouquets of flowers and votive candles. Several visitors talked about O'Connell's outreach to the unhoused and lauded his advocacy for immigrants. Others recalled social gatherings where O'Connell — often referred to as "Bishop Dave" or "Father Dave" — would "sit with everyone."
"He was one of us," one mourner said, adding, "He prayed for everyone."
Linda Dakin-Grimm, an immigration attorney who worked with O'Connell for more than a decade, said it was hard to believe anyone would want to kill him. "Father Dave brings people together. I've never met a person who had anything bad to say about him, ever. Everybody loves him," said Dakin-Grimm.
She recalled O'Connell's work with poor dioceses in Peru, his commitment with parishes in South Central L.A. and how he would pay Catholic school tuition for students in need or to help an immigrant family pay rent. O'Connell, she said, was committed to "the ordinary person, not the rich Catholic."
Dakin-Grimm credited O'Connell, who served as chairman of the interdiocesan Southern California Immigration Task Force, with her decision to take on pro-bono immigration cases. She has represented unaccompanied minors and those who were separated from parents deported under the Trump administration.
"He has always been the person who had the back of every person that I took on," Dakin-Grimm said. "He's an extremely unique person of deep faith and witness and kindness. I don't see how we will fill that big, aching gap."
Jose Diaz, a member of a Catholic men's fellowship, said O'Connell often joined the men for prayer services and Christian formation and "spiritually guided me and the group."
On Sunday evening, Diaz and his wife, Teresa, led a rosary prayer service near a growing makeshift memorial outside O'Connell's home.
"He was a light of hope and he gave people options. Most of us, we don't encounter holy people. He gave us the option of turning to God," he said.