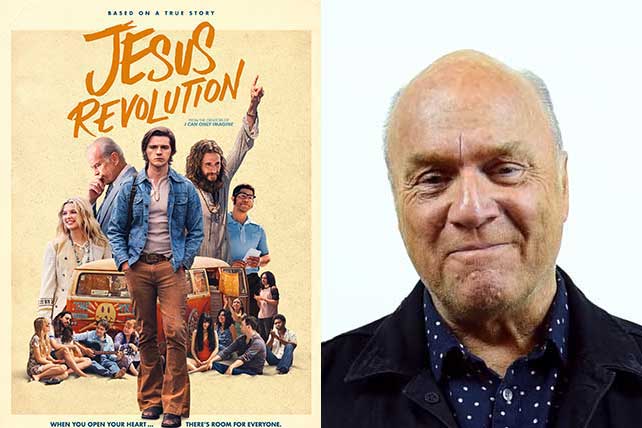 "Jesus Revolution," a historical film chronicling the Jesus Movement, which swept the country in the late 60s and early 70s, will release on Friday (Feb. 24) amid renewed interest in revival among American evangelicals.
The film focuses on the story of how Harvest Christian Fellowship senior pastor Greg Laurie came to salvation and was called into full time pastoral ministry at the age of 19.
"Jesus Revolution" features Golden Globe and Emmy Award winning actor Kelsey Grammer (Chuck Smith), "The Chosen" actor Jonathan Roumie (Lonnie Frisbee), Joel Courtney (Greg Laurie), Kimberly Williams-Paisley, Anna Grace Barlow, and it is directed byJon Erwin and Brent McCorkle.
Laurie told ChurchLeaders he hopes that the movie will touch the hearts of viewers such that they will pray for revival, pointing out, "It's been said that the theme of revival spreads the flame of revival."
RELATED: Greg Laurie on the Likelihood of Another Jesus Movement and Why Pastors Need to Evangelize
"We're telling a true revival story that happened back in 1970 of how God intervened and changed a generation. It wasn't a moral revival or a moral revolution. It wasn't a political revolution. It was the Jesus revolution," Laurie explained.
That revival changed church history, Laurie said. "Many historians not only regard the Jesus Movement as the last great awakening, but some even regard it as the greatest of all awakenings, because of the impact that it still has on the church today."
That movement birthed contemporary Christian worship, which later birthed contemporary Christian music, something Laurie characterized as a "whole new style of ministry that had really not been prevalent at that time."
"I'm hoping that Christians and leaders will be inspired, because they're going to see the story of a pastor, Chuck Smith, whose church was not very large, who wanted to open his heart to what God wanted to do," Laurie shared.
Smith admittedly wanted nothing to do with the hippie kids of his day, feeling that many of them needed to get a haircut, take a bath, and get a job. It was only after his wife Kay encouraged him to make an effort to reach the younger generation that Smith told God he'd talk to a hippie.
RELATED: Asbury Chapel Speaker Thought He 'Totally Whiffed' Sermon; 2 Weeks Later, Christians Around the Nation Are Still Responding to It
It was then that God brought a hippie evangelist named Lonnie Frisbee into Smith's life. Describing the relationship, Laurie said, "Nitro met glycerin, because the result was explosive."