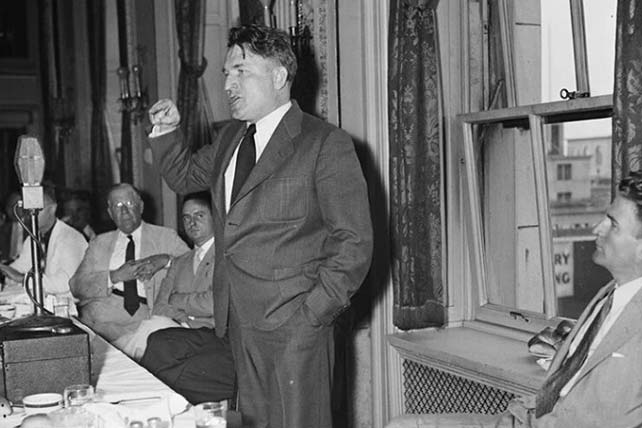 (RNS) — The Rev. Gerald L.K. Smith loved Jesus so much he built a seven-story statue on the top of an Ozark mountain to honor his savior.
Smith loved America, too, but despised many of his fellow Americans. Especially those who were Black, Jewish or immigrants.
An ordained Disciples of Christ pastor, master showman, skilled fundraiser, prolific writer and "minister of hate," Smith spent decades warning white Christians that they were in danger of losing their country to devious forces conspiring against them.
To combat those forces, Smith founded a political party, ran for U.S. Senate and churned out tens of thousands of copies of The Cross and the Flag, a monthly magazine dedicated to the cause of Christian nationalism.
For Smith, that work was defined not by Jesus or the Constitution. His main concern was preserving Christian power and what he called "traditional Americanism."
RELATED: Beth Moore's Tweet on Christian Nationalism Goes Viral
"The first principle for which we stand is: Preserve America as a Christian Nation being conscious of the fact that there is a highly organized campaign to substitute Jewish tradition for Christian tradition," he wrote in "This Is Christian Nationalism," which outlined the 10 pillars of his movement.
Among the other pillars of Christian nationalism: outlawing communism, destroying the "bureaucratic fascism" of income tax and the Supreme Court, and preserving racial segregation forever.
Smith aimed to take the latent prejudices and anxieties of American society and fan them into flames, wrote the late Glen Jeansonne, a longtime University of Wisconsin-Milwaukee history professor and Smith's biographer. For Smith, the fear of communism was an excuse to embrace prejudice and pursue power.
"His life illustrates that the career of a person of remarkable talents can be tragic if it is guided by a lust of power and fueled by a bigotry that appeals to latent hatred," wrote Jeansonne in his 1988 biography, subtitled "Minister of Hate."
While Smith's name is mostly forgotten, his ideas — and the strategies he used to promote them — still haunt America today.
"America has a long history, unfortunately, of this kind of Christian nationalism," said Lerone Martin, associate professor of religion at Stanford University and director of its Martin Luther King, Jr. Research and Education Institute.
Debate over ­Christian nationalism, which sociologists Andrew Whitehead and Samuel L. Perry describe as "a cultural framework that blurs distinctions between Christian identity and American identity," has been fueled by the rise of Donald Trump and the Jan. 6, 2021, attack on the U.S. Capitol.
RELATED: Pastor Robert Jeffress: If Voting One's Values Is Christian Nationalism, 'Count Me In'
A recent survey by the Public Religion Research Institute and the Brookings Institution found that about 1 in 10 Americans favors an extreme form of Christian nationalism, while a 2021 Pew Research study found a similar number of "faith and flag" conservatives, whose faith in God and America are intertwined.
Yet Christian nationalism is defined by more than religion and patriotism, said Whitehead, co-author of "Taking America Back for God" and associate professor of sociology at Indiana University-Purdue University Indianapolis. It's also defined by hate.
For hard-core Christian nationalists, new and old, the enemies list has often included Jews, Black Americans, immigrants and progressives, often labeled as Marxists.
"One of the key parallels is an us-versus-them mentality where we have to circle the wagons because we are being attacked," said Whitehead. "And the only way to survive is to fight back to take control and gain power."