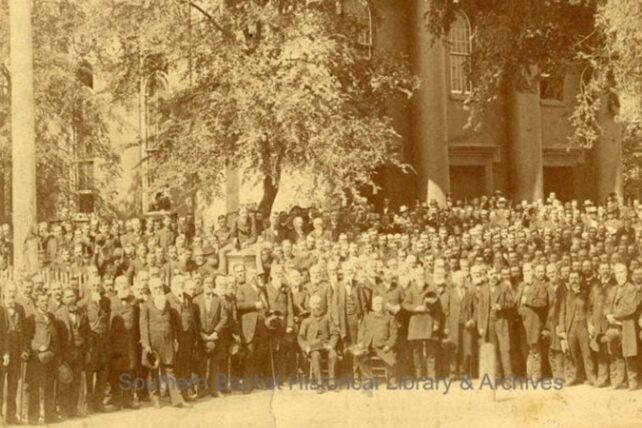 Widow of the first president of Baylor University, Graves was the first woman seated as a delegate to the Southern Baptist Convention's annual meeting. She returned again in 1882, according to the Journal of Southern Religion.
No one seemed to notice.
The same could not be said a few years later, when two women from Arkansas showed up as delegates. A pastor from Virginia stood up, saying women had no right to be at the meeting. That led to a hasty gathering of a five-member committee to decide the issue. The committee did not want the women there but ruled that nothing in the denomination's constitution barred their presence.
The committee's ruling did not sit well with delegates like a certain Dr. Hawthorne of Georgia.
"I love the ladies, but I dread them worse," he told delegates, according to the May 16, 1885, edition of the Tennessee Baptist newspaper. "If my wife was here knocking at the door of this Convention I'd never vote against her coming in."
RELATED: Saddleback's Andy Wood Explains Female Teaching Pastors Are Biblical, Female Elders Are Not
Delegates to that meeting eventually voted to bar the Arkansas women. Then they changed the SBC's constitution to make it plain only "brethren" were allowed — a rule that stayed in place for decades.
Nearly 140 years later, the role of women in the SBC is back up for debate. This time, the question is whether churches with women pastors should be expelled from the nation's largest Protestant denomination.
Since 2000, official Southern Baptist doctrine limits the role of pastor to men. But that doctrine had never been enforced at the national level until recently. This past February, the SBC's Executive Committee expelled five churches — including Saddleback in California, one of the largest churches in the SBC — for having women pastors.
Several of those churches are expected to appeal at the SBC's annual meeting in June.
The Rev. Linda Barnes Popham, longtime pastor of Fern Creek Baptist Church in Louisville, Kentucky, one of the churches kicked out alongside Saddleback, told The Tennessean newspaper she was surprised that her role at the church became controversial recently. She said a number of SBC leaders have preached at the church during her three decades as pastor, including the chair of the committee that recommended disfellowshipping Fern Creek.
"If our convention continues to make 'minor things' the 'main thing,' there will soon not be many churches left in the convention,'" she told that committee in a letter last October, according to The Tennessean.