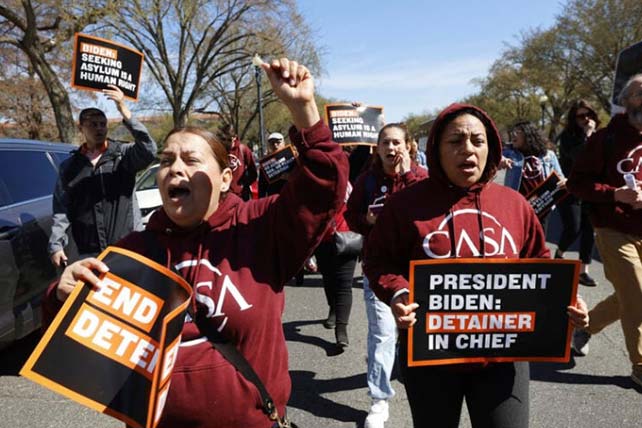 (RNS) — Taking advantage of a required public comment period, a broad array of faith leaders and religious groups, including faith-based refugee aid organizations, are speaking out against a proposed federal rule that would generally deny asylum to migrants who arrive at the U.S. southern border without first seeking protection in any country the migrants passed through.
Put forward in late February by the Biden administration, the measure imposes dire limitations on asylum for migrants of any nationality, other than Mexicans, who less rarely travel through a third country to reach the U.S.
The new rules mirror restrictions set forth by the Trump administration that were eventually blocked in court by migrant activist groups, including the East Bay Sanctuary Covenant, a Berkeley, California, nonprofit founded in the 1980s by six congregations committed to providing sanctuary for Salvadoran and Guatemalan refugees. They were represented by the American Civil Liberties Union, the Center for Constitutional Rights and the Southern Poverty Law Center.
RELATED: In Florida, Latino Evangelicals Mobilize Against DeSantis' Crackdown on Immigrants
"If the Biden administration goes through with the proposed asylum ban, we'll sue just as we did successfully with the Trump asylum bans," Katrina Eiland, an attorney with the ACLU Immigrants' Rights Project, told Religion News Service.
Eiland and other critics say Biden's proposed measure combines two things in the Trump administration's version: blocking asylum for people who entered the country without going through an official border crossing and barring asylum for migrants who didn't apply for protection in another country before reaching the U.S. southern border.
U.S. officials say the Biden administration's measure is different from Trump's because it offers more exemptions and it makes other legal pathways available, in particular humanitarian parole for Cubans, Haitians, Nicaraguans, Venezuelans and Ukrainians.
But Eiland argued that not all people fleeing danger fall into these nationalities, adding that "seeking asylum is a legal pathway, regardless of how one enters or the route that they take to this country."
During the 30-day public comment period, which ended Monday (March 27), the ACLU detailed in a 30-page letter its opposition to the proposed rule that "would cause countless people seeking asylum immense, avoidable suffering." The Southern Poverty Law Center's 29-page letter calls the new proposal "a new iteration of similar asylum bans the Trump administration attempted to advance."
Advocates have criticized the Biden administration for not giving groups more time to respond to a rule of this magnitude, that if finalized, will be in place for two years. Administration officials expect the measure to begin when a pandemic-era health order that denies asylum on grounds of preventing the spread of COVID-19 ends.
HIAS, a Jewish organization that is one of six faith-based agencies contracted by the federal government to resettle migrants, objected to what it refers to as "restrictive changes to the U.S. asylum system."
"We are there for refugees and asylum seekers when and where they need help most," said Vanessa Dojaquez-Torres, policy counsel for HIAS, in a March 24 letter addressed to federal immigration officials.
"We see firsthand why people are making the unbearably difficult decision to flee their home countries to make the dangerous trip to the U.S.-Mexico border," she said.
HIAS operates along the migration route from Venezuela, through South America and Central America, as well as in Mexico, and helps migrants with their asylum claims as well as with accessing health, employment and social services. The organization provides free legal representation to refugees and asylum-seekers of all faiths.
Biden's plans, HIAS said, would "unlawfully deny protection to asylum seekers and require them to seek asylum in countries that do not have functional asylum systems and where they may still be in harm's way."