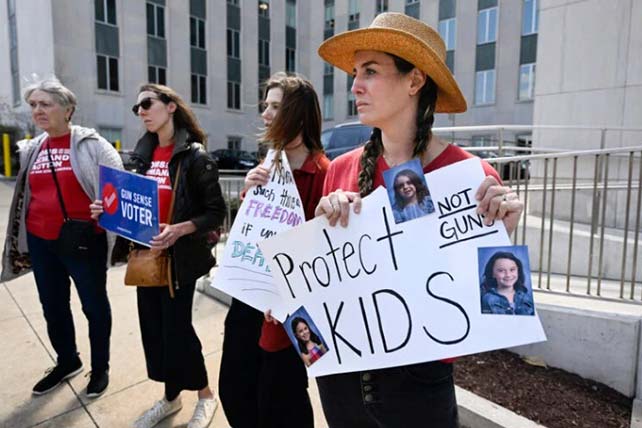 NASHVILLE, Tenn. (RNS) — Monday's shooting at The Covenant School, which left seven dead including the shooter, highlights a dual reality of life in Nashville, often known as the buckle of the Bible Belt.
It's a place where God is everywhere — and so are guns.
That tension is apparent in a drive along Interstate 65, headed south of Nashville. On the east side of the highway is a billboard that asks passersby to "Pray for Nashville," with a heart in the middle of the message. A few doors down is a massive indoor shooting range.
Even as residents have prayed for the victims of the March 27 shooting — six students and staff — and reached out with love and kindness to grieving families, there's historically been very little political support for restriction on the right to bear arms.
But in the wake of the state's deadliest school shooting, Tennessee's God and guns culture is coming under fire by outsiders and Nashville residents alike. Hundreds of protesters rallied at the Tennessee Capitol on Thursday, calling for reforms like red flag laws.
RELATED: Chris Tomlin, Friends With 2 of the Nashville Shooting Victims, Points to Hope in Jesus
Some made their way into the visitors' gallery of the Tennessee House of Representatives, where they shouted "No justice, no peace" at the behest of several Democratic lawmakers, according to social media video posted by The Tennessee Holler, a local progressive news site.
After the shooting, Tennessee lawmakers put on hold a proposal to expand concealed carry rights for adults to carry any firearm, including rifles such as the AR-15, out of respect for the victims and their families.
But gun reform activists argue this is merely a delay tactic until the spotlight has moved on, at which point the majority Republican state Legislature will go back to lifting gun restrictions. They note the decision earlier this year by Tennessee's attorney general to settle a lawsuit that allows any adult to carry a concealed handgun without a permit, background check or safety training, and another proposed bill that would allow 18- and 19-year-old Tennesseans to carry handguns without a permit.
Tatianna Irizarry-Meléndez, who described herself as a Christian mom of three, said she was surprised by how ubiquitous guns were in Nashville when she moved here nearly a decade ago. Her employer at the time, a company known for its Christian culture, sponsored gun classes and people would often post about guns they wanted to sell or trade on a company message board.
When she heard about the shooting, Irizarry-Meléndez said, she prayed for the victims and their families — but also worried about her own kids. If a shooting could happen at Covenant —located in Green Hills, a wealthy community — it could happen anywhere.
No one is safe, she thought.
Monday's tragedy has made her want to become more involved in efforts to prevent mass shootings by passing legislation limiting the kinds of guns used in the shooting. She also worries about teachers in schools, who are being put at risk when they show up in the classroom.