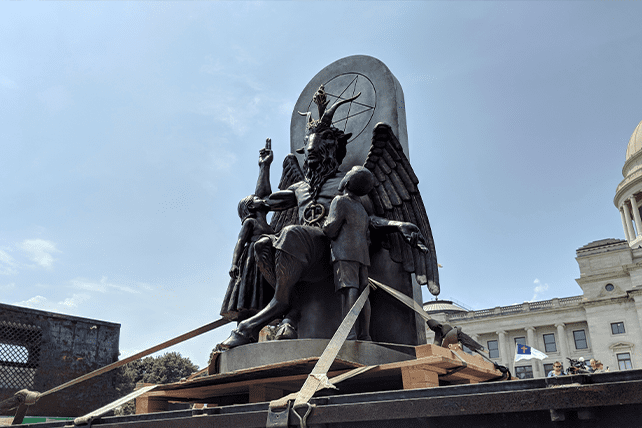 As leaders of The Satanic Temple (TST) prepare to host SatanCon 2023 in Boston, leaders of Intercessors for America (IFA) are preparing to travel to the event so that they can pray for and share their faith with attendees. 
The conference, which is set to take place on April 28-30, has billed itself as "the largest satanic gathering in history," boasting sellout attendance and promising a "weekend of blasphemy and remembrance."
The theme of the conference is "Hexennacht in Boston." Hexennacht, a German feast that takes place every April and commemorates the canonization of Saint Walpurga, is one of the five religious holidays TST celebrates.
Though TST employs satanic imagery, the organization is a nontheistic institution that uses Satan as a satirical symbol of their skepticism and adversarial relationship with the cultural dominance of Christianity. 
RELATED: 'SatanCon' To Take Place in Boston; Event Dedicated to City Officials Who Barred Satanic Temple From Delivering Invocation
SatanCon was borne out of this very conflict, as the first event of this kind was held in Scottsdale, Arizona, in 2021 after TST was denied their request to deliver the invocation at a City Council meeting. The location of this year's gathering was selected after TST was similarly denied the opportunity to deliver the invocation at a Boston City Council meeting.
Suzie MacAskill, one of the regional leaders of IFA in Boston, told the Christian Post that while her first impulse was to pray for the event's cancellation, she soon had a change of heart. 
"I initially went to prayer with a preconceived idea that God would want this to be prayed away. It was following this assumption that I was awakened through the night with a clear sense of 'this is my harvest field,'" she said. 
MacAskill added, "Since truly seeking God's will for this event, and not coming with my own ideas, I believe I've been able to more clearly hear of his love for those who are lost and his strategy for praying for this event."
MacAskill's sister and fellow IFA Boston leader, Lynn, said that "several people [are] receiving words and visions about the angel armies surrounding Boston."
​​"Suzie and I have only just come to understand that God has been preparing us for this for some time, which is very comforting as we get close to going into the battle zone," Lynn said. 
RELATED: Satanic Temple To Host Back-to-School Night in Pennsylvania as Part of Nationwide Effort To Increase 'Religious Representation'
SatanCon will take place the same weekend as Revive Boston, a conference focused on training in street evangelism. Leaders from IFA plan to attend the latter event and then go out into the streets of Boston on Saturday, April 29 to evangelize.