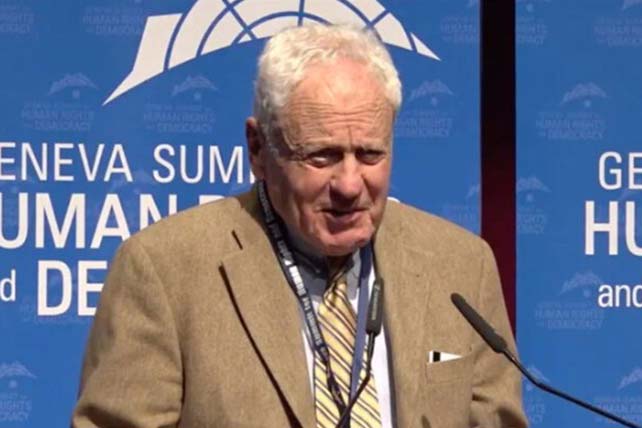 (RNS) — When an 1,100-year-old Hebrew Bible was sold at a Sotheby's auction for a record-setting $38.1 million two weeks ago, most news articles noted few details about the person behind the purchase: Alfred H. Moses.
The former U.S. ambassador to Romania donated the amount to the American fundraising group for ANU, Museum of the Jewish People in Tel Aviv, Israel, ensuring the rare codex would be on display to the public rather than locked away as a collector's item.
In a conversation with Religion News Service, Moses, 93, whose storied career involved being president of the American Jewish Committee and special counsel to President Carter, revealed he only learned about the codex a few months back. What drew this longtime corporate lawyer and Baltimore native to invest millions toward a Hebrew Bible he'd never seen in person?
RELATED: Oldest Known Map of Stars Obtained by Museum of the Bible
Moses spoke to RNS about being an "observant, non-believing Jewish universalist," his journey to becoming ambassador to Romania and how he came to fund the purchase of one of the most expensive documents ever sold at auction. This interview has been edited for length and clarity.
What was it like growing up in Baltimore in the 1930s and 1940s?
Baltimore was a segregated city. I lived in the Jewish part, and my friends were primarily Jewish. I lived in a very secure, comfortable environment. My great-grandfather started a hat factory in the 1860s, which became the largest manufacturer of men's straw hats in the world. In my father's lifetime it went bankrupt. My parents were reasonably prosperous until the business failed.
We were very much part of the Jewish community in Baltimore. Religiously, we remained orthodox. We had a kosher home. I went to Seder. I became a bar mitzvah. My father did not speak Hebrew, but we read the prayers in Hebrew.
I was 12 years old when World War II broke out. We knew tons of people who were in the service. Of course as Jews, we felt particularly vulnerable because we had a sense, without knowing the details, that the Jews in Europe would be massacred by the Germans.
Is it true that years later, while president of the American Jewish Committee, you began helping thousands of Jewish people leave Romania?
I first went through Romania in 1976 as part of a delegation with the American Jewish Committee. As I was leaving my hotel, two or three young fellows came up to my wife and me and told us that life in Romania was dreadful for Jews. They were blamed for everything that went wrong. And they had to get out, can I help them? So I shook their hands and said, I'll do what I can. I went back to the United States and I started to get Jews out of Romania. And we were quite successful. We were able to persuade Congress to grant the most favored nation status for Romania every year. In return, our request was that Jews be free to emigrate to Israel. And I worked that out with Nicolae Ceaușescu, who was then the communist dictator. I met with him in Romania on three occasions. We got the Jews out.
RELATED: World's Longest Illustrated Bible Unfolded at National Mall
Then Ceaușescu was shot on Christmas Day, in 1989. I thought my work was over, but the chief rabbi requested I come back to help the community, which I did, at least once a year. And lo and behold, in 1994, the State Department asked me if I would consider being the American ambassador to Romania. I thought they were out of their minds, but they sent my nomination to the White House, and President Clinton signed it, and I became the American ambassador to Romania for three years.