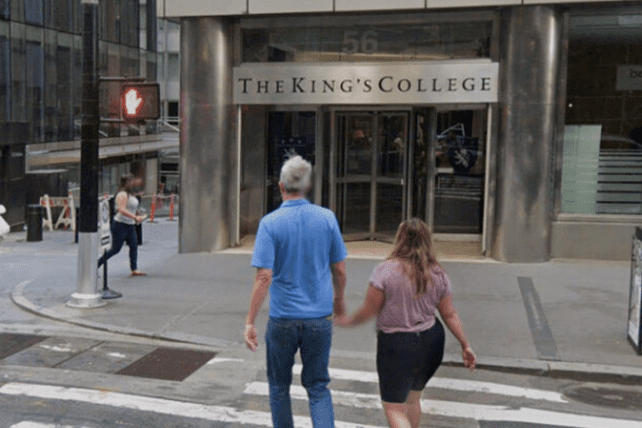 (RNS) — The last remaining evangelical Christian college in New York City, The King's College, announced Monday (July 17) in an email that the school, which has faced dire financial challenges, would not offer classes in the fall. In an earlier meeting with faculty and staff it was announced that many teaching contracts would not renew or were canceled.
"This decision comes after months of diligently exploring numerous avenues to enable the College to continue its mission," read the email, which was addressed to "members of the King's community" and signed by the Board of Trustees. "In connection with this decision," it continued, "it is with regret we share that our faculty and staff positions will be reduced or eliminated.
A faculty member who attended the Monday afternoon meeting said the mood in the room was sober, but that because the layoffs and severance terms were communicated "clearly and concisely," those affected expressed "deep appreciation."
It was unclear how many faculty members, if any, were retained, though several contacted by Religion News Service said they still had their jobs as of Monday afternoon. No word was offered about the school's future. "We will continue to provide additional updates over the days and weeks ahead as more information becomes available," said the board's email.
The school has endured months of public financial woes that caused the Middle States Commission on Higher Education to terminate the Christian college's accreditation in May. Since January, King's has kept students, staff and faculty on edge, asking for prayer as officials sought $2.6 million to keep the school open. A fundraiser brought in only about $200,000.
King's is currently in an appeal process with MSCHE that depends on showing the institution is financially viable with students actively enrolled.
Throughout the spring semester, staff and faculty helped students transfer to a handful of colleges, from St. John's University in Queens to some as far away as Providence Christian College in California. However, many students have said they would remain at King's if it opens in the fall.
Though it has never boasted more than 1,000 students in its 85-years of existence, King's rose to become a top conservative liberal arts school, often compared to Hillsdale College, another small but influential conservative school, even as many King's students and faculty fought political labels.
Operating on thin margins and depending on big donors like Richard and Helen Devos, the school community has been in turmoil since a partnership with a Canadian education investment company, Primacorp Ventures, failed to change its fortunes. In April 2021, King's agreed to let Primacorp take over fundraising, marketing and admissions in exchange for 95% of the tuition from online students and four of nine board seats. But despite lofty promises, the company never boosted enrollment, and layoffs followed in fall 2022.
Primacorp fully exited the partnership in April, allowing King's to bring on eight new board members, comprising two former board members, Andy Mills and John Beckett, two parents and four alumni.
A flicker of hope came on May 31, when the board said in a statement that it was in "advanced discussions" with an unnamed Christian university for "an educational and operational partnership" to remain open in New York City for the 2023-2024 academic year and beyond. But since then, the community has awaited an announcement about whether the college will close or not, receiving only breadcrumbs until the faculty layoff announcement.
Dru Johnson, a professor of Biblical literature, theology and interpretation for 12 years at King's, said he went into the meeting Monday "straight up 50/50."