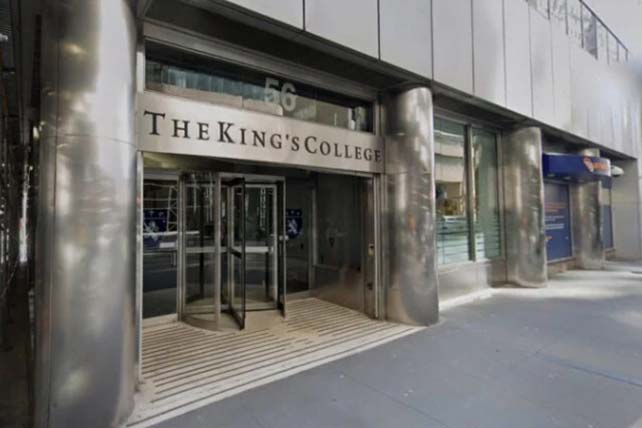 NEW YORK (RNS) — The King's College, a nondenominational Christian college in Manhattan, is expected to announce it will close after a Canadian education investment company failed to deliver on lofty promises to boost declining enrollment, according to several staff and faculty members.
Meanwhile, Primacorp Ventures, which calls itself "Canada's largest independent provider of private post-secondary education," has come to be deeply involved in the fate of the school's finances and real estate holdings.
Though it has never boasted more than 1,000 students, the 85-year-old King's has risen to become a top conservative liberal arts school and has often been compared to Hillsdale College, another small but influential conservative school, even as many King's students and faculty fought political labels.
After announcing last month that it needed $2.6 million to finish the spring semester, King's launched a fundraising campaign that has raised less than half a million dollars. Many faculty are already posting their resumes online to search for their next jobs. Beginning Tuesday (March 21), admissions representatives from other schools set up booths on the King's campus to recruit students, according to Matthew Parks, chief academic officer and interim provost.
RELATED: King's College Apologizes for Ousting Autistic Boy From Evensong
But some are holding out hope for a partnership with another school that would preserve King's brand or for a multimillion-dollar donation.
"We're still fighting for next year," Parks told students in a meeting on campus Monday afternoon that was also broadcast on Zoom. "This is all Plan B."
Meanwhile, the Brooklyn landlord of a student residential building has sent eviction notices under apartment doors and in mailboxes. A utility notice last week threatened to shut off the students' electricity on Tuesday, according to a student who attended a campus meeting on Monday.
At that meeting, Parks told students that King's has been in touch with Con Edison, the utility company, and there would be no disruption in service. "No need to worry about that," he said. "We're all set there," adding that King's has set up a payment plan to pay the apartment rent owed.
Parks also said the college has launched a new effort to reach out to "high capacity donors."
Percy Crawford, an associate of Billy Graham's, founded The King's College in 1938 in the New Jersey shore town of Belmar. After several moves it ended up in Briarcliff Manor, New York, then shut down in 1994 after filing for bankruptcy. Five years later, the evangelical ministry Campus Crusade for Christ (renamed Cru) resurrected King's and moved it into Manhattan.
King's has relied on big donors and operated on thin margins ever since. The board's controversial hiring of right-wing pundit Dinesh D'Souza as president in 2010 was widely understood as a way to entice major conservative donors. Two years later, billionaires Richard and Helen Devos began giving millions periodically to the school, but soon after their deaths in 2018 and 2017, respectively, the flow of cash stopped.