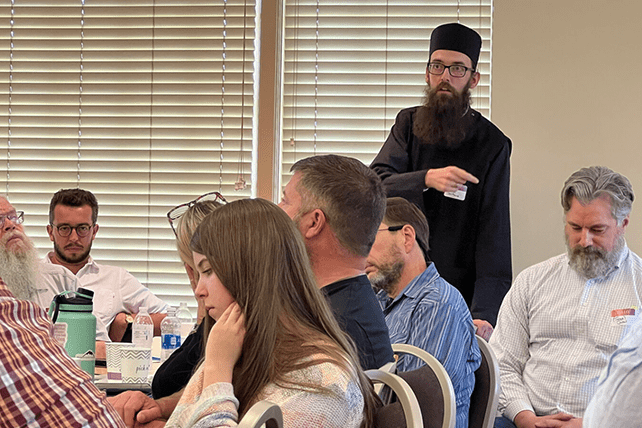 TOBACCOVILLE, N.C. (RNS) — Orthodox Christianity in the United States is a kaleidoscope of languages and cultures as diverse as Russia, Greece, Ethiopia, Syria, Bulgaria and, increasingly, the American South.
Aiming to forge that burgeoning Southern Orthodox identity is the Philip Ludwell III Orthodox Fellowship, which kicked off its inaugural conference in the small North Carolina village of Tobaccoville, just northwest of Winston-Salem, on Saturday (Sept. 16) with coffee, muffins and a welcome table papered with reimagined Southern state flags: each overlaid with a white three-bar Russian Orthodox cross.
Philip Ludwell III, the fellowship's namesake, became one of America's earliest converts to Orthodoxy in 1738 and then translated Russian Orthodox texts into English. His family held government positions in the Carolinas and Virginia and shared ancestry with Confederate Gen. Robert E. Lee, born nearly a century later.
"We love Jesus, we honor our ancestors, and we want Orthodoxy to grow in our homeland," said Rebecca Dillingham, a co-founder of the fellowship. "It's pretty simple, and that's why the inaugural conference was a success. Doesn't take a Ph.D. to figure that out."
Many of the conference attendees and speakers call themselves traditionalists, advocating for young marriages, home schooling, and trade schools over universities. Many also believe monarchy is the best form of government but begrudgingly accept liberal democracy. They're unhappy with both political parties, but for most, Donald Trump is the favored option for president.
While many jurisdictions were represented, including Antiochian, Serbian, Greek and Orthodox Church of America, the majority of attendees appeared to represent the Russian Orthodox Church Outside of Russia (commonly called ROCOR), a semi-autonomous part of the Russian Orthodox Church in Moscow.
The 125 attendees from at least 10 states at the weekend conference mingled over North Carolina BBQ, listened to speeches, participated in Q&A's and gathered for Saturday evening and Sunday morning worship at Dillingham's parish down the road. More tried to sign up but the event was capped to comply with the fire code.
Dillingham, who organized the conference and was referred to as the "Energizer Bunny" of the fellowship, also runs the "Dissident Mama" blog and podcast, where she expresses her self-described "unapproved opinions." She wrote anonymously until a hate-watch researcher doxxed her in 2020. She has argued for the South to secede from the U.S. again, opposed the removal of Confederate statues from public land and attempted to show parallels between Southern and Russian identity. She has compared what she sees as American authoritarianism imposed on the South to the suffering inflicted by Bolsheviks and has likened figures such as Lee, wrongly demonized in her opinion, to Russia's President Vladimir Putin.
Like almost all of the attendees, Dillingham has no ethnic ties to an Orthodox country but converted to Orthodoxy years ago — after living as an atheist, feminist and "communist hippie," she has explained on her podcast.
Evangelicals in particular have been converting to Orthodoxy for decades as English language liturgies became more common. Then the internet facilitated a constellation of blogs and podcasts about Orthodoxy, which, together with the pandemic lockdowns, has led to explosive growth in some Orthodox parishes, particularly across the South. Historically, Orthodoxy has been concentrated more in Alaska and urban pockets where Slavic, Balkan and Middle Eastern immigrants have settled.
A recent study on the effects of the pandemic on Orthodox parishes in the U.S. found that while most Orthodox churches shrank an average 15% in regular attendees from 2020 to 2022, 1 in 5 parishes grew their membership and in-person attendance by 20%.
Dillingham's ROCOR parish in Tobaccoville, St. Thomas the Apostle Orthodox Church, is about 95% converts and has grown to about 80 weekly attendees since its 2019 start, according to her. Members first gathered in a small backyard tool shed, desiring English-language Russian Orthodox services that they couldn't find close by. A priest visited every few weeks. The congregation expanded onto the lawn during 2020 lockdowns, attracting worshippers from churches whose doors closed for online-only services. Now they meet in a building they bought from a Methodist church and have a full-time priest.