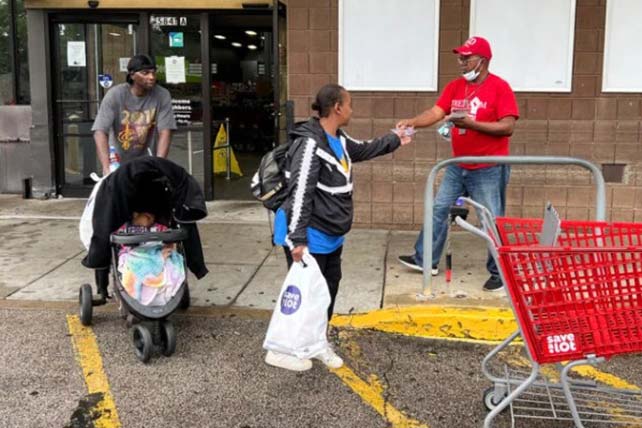 CLEVELAND (RNS) — The Rev. Tony Minor concluded the Sunday (Aug. 6) service at the Community of Faith Assembly, a Pentecostal church in Cleveland's North Broadway neighborhood, by reminding the congregation of the cost African Americans had paid for the right to vote.
"Voting is holy ground! " said Minor, standing in front of the church's wooden altar. "This is holy ground! Blood was shed that we might have a right to vote."
On Tuesday, Ohioans are voting in a special election on Issue 1, a ballot initiative aimed at fending off efforts to amend the state constitution to include a right to abortion. But Minor and other Ohio faith leaders say Issue 1 about more than abortion. It's a matter of democracy, and of faith.
RELATED: Pastor Robert Jeffress: If Voting One's Values Is Christian Nationalism, 'Count Me In'
For the last six months, Minor has been one of dozens of faith leaders across Ohio — many of them Black clergy — hosting rallies, news conferences and educational sessions, encouraging early voting, offering rides to the polls and canvassing as part of a broader statewide movement against Issue 1.
"We have to be ready and prepared to deal with public policy," Minor told Religion News Service. "It's at the heart and soul of who we are as people of faith, as a prophetic, African American community who understands that our faith calls us to love one another, and to try to make this world a better world for all."
The measure, the only issue on Tuesday's ballot, would raise the threshold for passing citizen-led ballot initiatives to amend the state's constitution from a simple majority to 60%. It would also require signatures from all 88 Ohio counties to place an initiative on the ballot. Currently, signatures are required from only 44 counties.
If approved, Issue 1 would make it more difficult to pass a November ballot initiative that would codify the right to an abortion with "reasonable limits," including restrictions after a fetus's viability outside the womb. It would also raise the bar for passing future ballot initiatives on any issue.
The vote on the initiative has become a national fight, drawing money and activists on both sides of the abortion debate from across the United States. Black faith leaders, with a long history of defending voting rights for their congregants, are concerned about Ohioans' ability to make change via the ballot.
RELATED: Voting Just One of Christians' Political Responsibilities, Darling Says
The Rev. Raymond Greene Jr., executive director of Black Led Organizing Collaborative in Akron, just south of Cleveland, said Issue 1 could result in what he called "collateral damage" that would silence the voices of Ohioans in the long term.