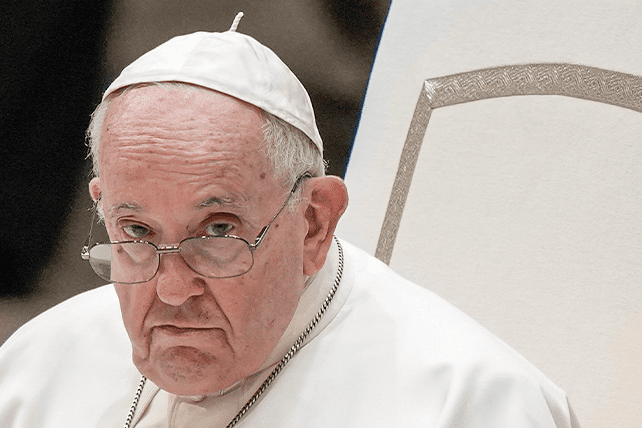 (RNS) — Last month, when Pope Francis' comments appeared to accuse some American Catholics of harboring "a very strong, organized, reactionary attitude," many in the faith and even some political junkies took his meaning. What was less certain was just who, exactly, Francis was referring to.
Francis made the comments in a forum with a group of Portuguese Jesuits on his visit to Lisbon in early August, when a priest who had recently been to the U.S. said he encountered many critics of Francis. The pope agreed that some Catholics in the U.S. exhibit "backwardness" and warned that at times "ideologies replace faith."
Overall, U.S. Catholics skew more liberal than many other religious groups — or, in some cases, Americans in general — on same-sex marriage, contraception, abortion access and other social issues. They also overwhelmingly support Francis: Pew Research has found that the share of Catholics who hold a favorable view of the pope hovers around 83%.
But a vocal subset of conservative Catholics consistently voices consternation about the pope's views on everything from divorced Catholics to pro-choice politicians receiving Communion to the pontiff's emphasis on issues other than abortion to his attention to climate change. While not all have singled out the pope himself, they've frequently opposed many of his messages.
"Some of this is about the faith, and what is true and how do you share it," John Carr, founder of the Initiative on Catholic Social Thought and Public Life at Georgetown University, told Religion News Service. "Some of it is about power — ecclesial, political and economic power. Pope Francis is a threat to the status quo in all those areas."
If this is what Francis was talking about, however, it doesn't explain the who. Carr wouldn't speculate, and several Catholic writers from across the ideological spectrum expressed frustration last week about the vagueness of the pope's comments. Francis didn't exactly clarify things when asked about the matter while flying to Mongolia. "Yes, they got mad," Francis told a reporter, according to Crux. "But move on, move on."
Before we move on, a few personalities on the Catholic scene whom Francis may or may not have had in mind:
Bishop Joseph Strickland
Strickland, head the small Diocese of Tyler, Texas, has used social media to stake out a starkly right-wing stance, opposing the administration of COVID-19 vaccines and video-ing into the Jericho March in Washington, D.C., in December 2020, an event seen as a precursor to the attack on the U.S. Capitol a few weeks later. His prayer was comparatively tame, but — along with his Twitter feed — irked fellow clerics who saw a Catholic prelate on the same program as InfoWars conspiracy theorist Alex Jones. In November 2021, Strickland was privately chastised at a U.S. bishops' conference meeting.
In June 2023, after Strickland published a post on X (formerly Twitter) accusing Francis of "undermining the Deposit of Faith" — the core of the Catholic faith — it was revealed that Strickland and his diocese were subject to an apostolic visitation, a rare disciplinary investigation by the Holy See. Yet Strickland pressed on, issuing a defiant pastoral letter in August in which he claimed an "evil and false message" has "invaded" the church in the Synod on Synodality, which meets in Rome next month.
Raymond Arroyo
The news director for Eternal Word Television Network who moonlights as an occasional Fox News host, Arroyo regularly gives air time on his show "The World Over" to Francis critics such as Archbishop Carlo Maria Viganò, the former papal nuncio in the U.S.; Cardinal Raymond Burke; and former Trump adviser Steve Bannon. As a frequent guest on Fox News, Arroyo has gone further, mocking a Vatican official who contracted COVID-19 despite having had a vaccination and booster.
Since joining EWTN in 1996, Arroyo has been instrumental in the network's evolution from a place for affable, if firmly conservative, religious programming to a channel that includes politically charged commentary. Pope Francis is widely believed to have criticized the group in the past: When asked by a reporter in 2021 about those who take issue with his papacy, Francis referred to a "big Catholic television station that continually speaks poorly about the pope," calling it "the work of the devil."