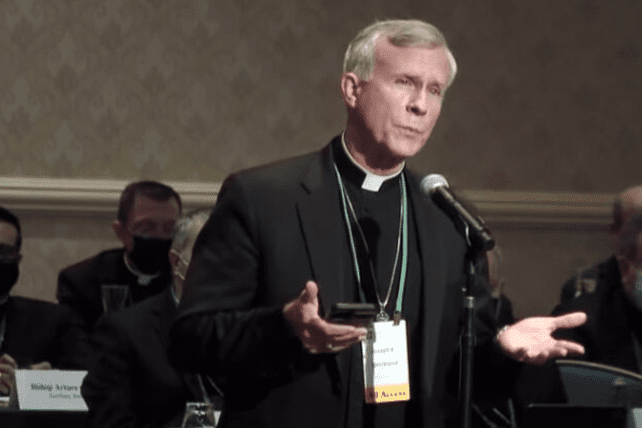 (RNS) — As rumors swirl that Pope Francis may ask for the resignation of Catholic Bishop Joseph Strickland, the firebrand conservative who oversees the Diocese of Tyler in Texas said he has heard nothing from the Vatican but signaled he would not give up his post voluntarily.
According to public Vatican records, Pope Francis met on Saturday with Archbishop Robert Prevost, prefect of the Vatican's Dicastery for Bishops, and Archbishop Christophe Pierre, the papal nuncio, or ambassador, to the United States, among others. What the three discussed in the meeting was not made public, but a conservative-leaning website, The Pillar, has claimed the meeting touched on whether to ask for the resignation of Strickland, who has stoked controversy in recent years for everything from resistance to COVID-19 vaccines to criticizing the pope.
The Vatican did not immediately respond to requests to confirm The Pillar's account of the confab.
Rumors of Strickland being asked to resign, amplified by LifeSiteNews and other right-wing Catholic websites, come after an apostolic visitation to Strickland's diocese in June, a rare disciplinary investigation by the Holy See. The visitation, in turn, followed a November 2021 incident in which Strickland was privately chastised by Pierre during a meeting of the U.S. Conference of Catholic Bishops.
Reached by email on Tuesday, Strickland told Religion News Service he was unaware of any resignation request from the Vatican, saying, "I have received no information on this from Rome."
Asked whether he would resign if the pope asked, Strickland suggested he would resist, possibly forcing the Vatican to remove him.
"As a basic principle I cannot resign the mandate given to me by Pope Benedict the XVI," he wrote. "Of course that mandate can be rescinded by Pope Francis, but I cannot voluntarily abandon the flock that I have been given charge of as a successor of the apostles."
John Beal, a canon lawyer and professor at the Catholic University of America, said via email that a pope can remove a bishop against the bishop's wishes, adding that "there is no procedure that is laid down for such an action."
Beal said a bishop "could be 'deprived' (privatio) of his office as a penalty following a penal trial for some canonical offense," although the scholar expressed doubts as to whether Strickland has done anything that rises to such a "punishable offense."
More often, the scholar noted, bishops who stoke the ire of a pope have their power reduced in creative ways. He pointed to the case in the 1980s of Archbishop Raymond Hunthausen in Seattle, who was given an auxiliary bishop who "essentially stripped" him of authority. In 1995, Pope John Paul II removed then-Bishop Jacques Gaillot from his post in France after the cleric voiced liberal views deemed out of sync with Catholic orthodoxy. Gaillot was named bishop of Partenia, a so-called titular see in modern-day Algeria that has not functioned as a physical Catholic diocese since around the fifth century.