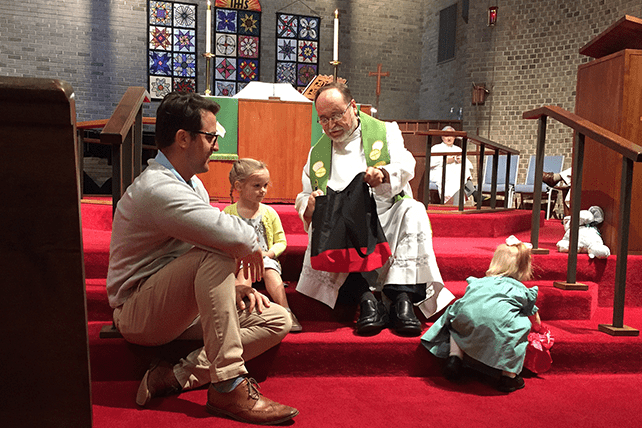 (RNS) — A new survey of mainline clergy finds those leading the historic denominations that once shaped the American Protestant scene are far more liberal than their congregants on a host of political and social issues.
The Public Religion Research Institute survey of 3,066 mainline clergy, released Thursday (Sept. 14), shows that about half identify with the Democratic Party, 28% identify as independents and only 14% as Republicans.
In this sense, they are the inverse of evangelical clergy, whom surveys find to be overwhelmingly conservative and vote Republican.
Mainline clergy are also more liberal than their congregants, who tend to be divided among Republicans (36%), independents (35%) and Democrats (24%).
These mainline clergy are more supportive than their congregants of LGBTQ rights, more likely to have opposed the overturn of Roe v. Wade and less likely to believe America is in danger of losing its culture and identity.
"Compared with our 2008 analysis, we find that mainline Protestant clergy have become both more likely to identify as Democratic and less likely to identify as Republican; mainline clergy are also more ideologically liberal and/or more moderate than in our 2008 survey, with fewer clergy identifying as conservative," the survey concluded.
But despite the risks they may face when speaking their minds about issues where they are more ideologically liberal than their congregants, these mainline clergy are committed to having challenging conversations about politics.
Most mainline clergy, the survey found, believe their congregants are largely accepting of them when their political views differ and are also generally accepting of their fellow church members in cases of political disagreement.
"One of the things that stood out to me is that mainline clergy would like to be talking about politics, even when they recognize that such conversations can be potentially uncomfortable for their members," said Melissa Deckman, PRRI's chief executive.
To be sure, mainline clergy hold a spectrum of beliefs: 55% identify as liberal, 22% identify as moderate and 22% as conservative. Of the seven denominations surveyed, clergy from the United Methodist Church and American Baptist Churches USA were far less likely to identify as liberal, compared with clergy from the United Church of Christ, the Presbyterian Church (USA), the Episcopal Church, the Lutheran Evangelical Church in America and the Christian Church (Disciples of Christ).
A recent study by Duke University sociologist Mark Chaves and postdoctoral research associate Joseph Roso found that 74% of white evangelical clergy reported their political views were about the same as those of most people in their congregations, suggesting evangelical clergy are far more in sync with their congregants. That can allow evangelicals to more easily mobilize as a political base and it makes them a potent, and indeed central, constituency of the Republican Party.
Deckman said education is probably the reason why mainline clergy are more liberal than their evangelical cousins.