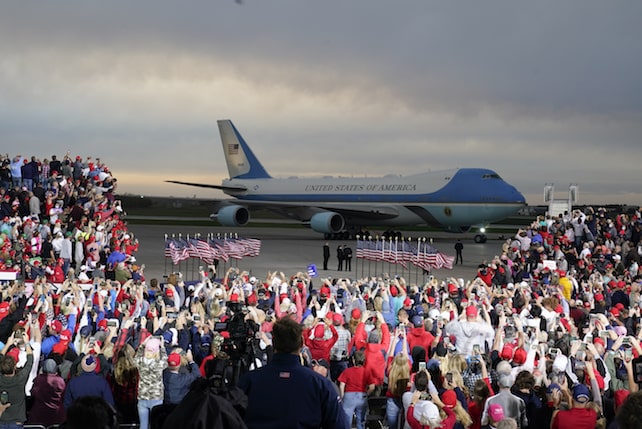 (RNS) — As they head to the polls, nearly all religious Americans say the coronavirus is the most critical issue facing the country, a new study by PRRI shows. But there's one notable exception: white evangelicals.
Only 35% of white evangelicals said the coronavirus is of critical concern, PRRI's 11th annual American Values Survey, released Monday (Oct. 19), shows. Among this group, abortion and terrorism top the list of critical concerns. No other religious group identified abortion among its top three concerns.
On this and other issues, white evangelicals are outliers among U.S. religious groups.
"White evangelical Protestants do seem to be out on a limb on their policy views and views of Trump," said Natalie Jackson, PRRI's director of research.
"It's more a fact of other types of Christians—mainline Protestants and Catholics—shifting away toward a more centrist outlook and increasingly leaving white evangelicals out on their own as the one religious group that very much supports Trump and is locked in with their party ID."
The study, conducted in September among 2,538 U.S. adults, shows that overall, 35% of Americans approve of how President Donald Trump has handled the coronavirus pandemic, while 65% disapprove.
But white evangelicals approve of the job Trump is doing at a rate of 76%, as compared to 52% of white mainline Protestants and 49% of white Catholics.
Heading into the 2020 election, their support for the president remains steadfast.
Majorities of every other religious group say the president has damaged the dignity of the office of president. But only 36% of white evangelicals believe that. And among white evangelicals who identify as Republicans, only 20% say he's damaged the dignity of the office.
White evangelicals are also the only major religious group to say the country is moving in the right direction, with 59% agreeing. By comparison, only 40% of white mainline Protestants, 39% of white Catholics, 40% of Hispanic Protestants and 28% of Hispanic Catholics said the country is headed in the right direction.
That assessment drops even further among non-Christian and unaffiliated Americans. Only 24% of non-Christian religious Americans and 18% of religiously unaffiliated Americans say the country is headed in the right direction.