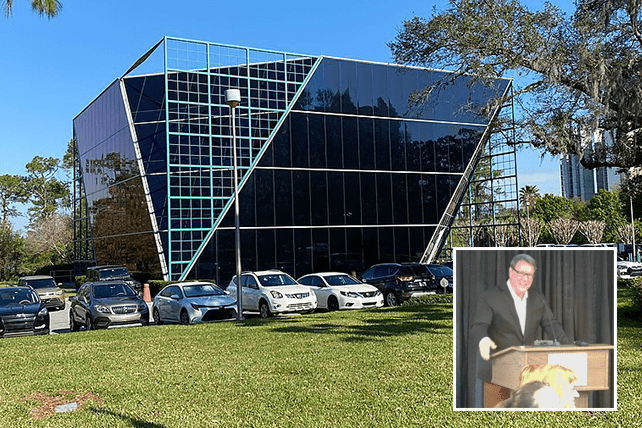 Florida pastor David Netzorg encouraged submission to government authorities while offering the invocation at the Sept. 13 meeting of the Central Florida Tourism Oversight District Board (previously named the Reedy Creek Improvement District Board), which is the governing body for the jurisdiction of the Walt Disney Resort.
The reminder of God's sovereignty in establishing government came in the midst of an ongoing dispute between employees of the district, which was previously controlled by Disney, and the district's new board, which was appointed by Florida governor Ron DeSantis, over benefits and perks offered to employees and retirees of the district. 
Specifically, district workers have raised concerns over the discontinuation of a program that offered free Disney Resort passes to employees and retirees, as well as their families—a perk that was a determining factor for many deciding to work in the district. 
The meeting began with an invocation offered by Netzorg, who serves as pastor of Emmaus Church in Winter Garden. Prior to offering a prayer for the board, Netzorg delivered some personal remarks. 
RELATED: Bill Maher in Favor of Fla.'s Controversial 'Don't Say Gay' Bill: 'Shouldn't Parents Know Everything?'
"I want to thank y'all for what you do," Netzorg told the oversight board. "I appreciate it very much. Government is very important. It's a calling."
"God's Word says that you actually work for God," Netzorg continued. "This is God's world and it is structured according to his design. And God established government to minister to people, and he's called you to be a part of that. And it's a high calling. So thank you for answering that call. Thank you for what you do; it's very important."
"You know, a lot of people think that, 'Oh, you're called to be a minister, so you work for God and the rest of us don't.' No, all of us do," Netzorg added. "And when we help other people and when we love other people and make their lives better, enhance their lives, that's loving your neighbor as yourself, which you probably know is the greatest commandment from the Bible."
Netzorg then read Romans 13:1-8, in which the apostle Paul urges followers of Jesus to be "subject to the governing authorities."
During the period of the meeting designated for public comments, one retiree expressed concern that he would no longer be able to afford taking his grandchildren to the Disney Resort—a benefit he had worked very hard for many years to maintain. 
RELATED: 'What Has Happened at Disney Is Moral Failure': Franklin Commends FL Governor DeSantis for 'Bold Stand'
In response, the board stated that a cash stipend has been proposed in lieu of family passes. While the size of that stipend is still a matter of dispute, as employees and retirees have expressed the initial suggested figure is too low, the board expressed that it is working to increase the stipend amount and will update the public in a meeting later this month.