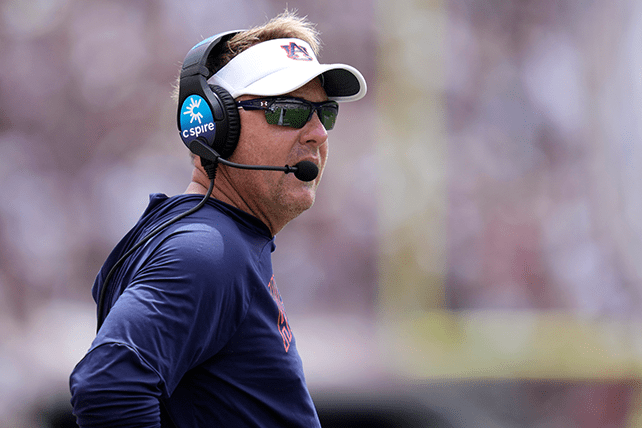 Less than a year into his head coaching position at Auburn University, Hugh Freeze is making headlines for more than his work on the field. Freeze, along with Auburn coaches from other sports, recently promoted and participated in a worship event involving baptisms.
Event planners promoted "Unite Auburn" for "worship and giving messages to Auburn students seeking to grow their faith in God or who were curious about Christianity," according to The Auburn Plainsman.
Auburn Coaches Attacked for Promoting and Attending Campus Worship Event, Spontaneous Baptisms
The Freedom From Religion Foundation (FFRF) released an official statement warning Auburn University, calling the worship event "inappropriate and unconstitutional."
Thousands of students attended the event in Neville Arena on the campus of Auburn University. Passion Music led worship, and Jennie Allen and Jonathan Pokluda were the main speakers. The IF:Gathering founder Allen challenged students to be ambassadors for Christ. Pokluda focused his talk on sexual purity.
While the "goal was to unite the Christian community under one roof to worship God," students began asking to be baptized.
Jeremy Napier, chaplain for the men's basketball team, said, "I've been a part of just planning this event and, man, the Lord just took it from there and we ended up at the Red Barn…It was not planned at all. I think this was a spontaneous decision at the very end where we just said, 'Let's go for it.'"
An estimated 100 students were baptized that night. The FFRF wouldn't stand for the event or its supporters and called for the university to "put a stop to religion in its athletic programs."
"Auburn University is a public university, not a religious one. It is inappropriate and unconstitutional for university employees to use their university position to organize, promote or participate in a religious worship event," FFRF staff attorney Chris Line wrote to Auburn University President Christopher B. Roberts. "These ongoing and repeated constitutional violations at the university create a coercive environment that excludes those students who don't subscribe to the Christian views being pushed onto players by their coaches."
While it appears no students were required or forced to attend "Unite," the FFRF said "it is unconstitutional and inappropriate for public school employees to direct students to partake in religious activities, or to participate in the religious activities of their students."
"Auburn's sports programs are full of young and impressionable student athletes who would not risk giving up their scholarship, playing time or a good recommendation from their coach by speaking out or voluntarily opting out of any team religious activities," FFRF continued, "even if they strongly disagreed with his beliefs."
Faithwire reported that "legal expert Tyson Lanhofer, senior counsel, and director of the Center for Academic Freedom with the Alliance Defending Freedom, doesn't believe the FFRF's argument holds any water." Langhofer said that FFRF has a "twisted interpretation of the First Amendment."

With hundreds of reactions, shares, and comments, fans are not shy to give their opinions on the incident. Many support and appreciate the FFRF's report.