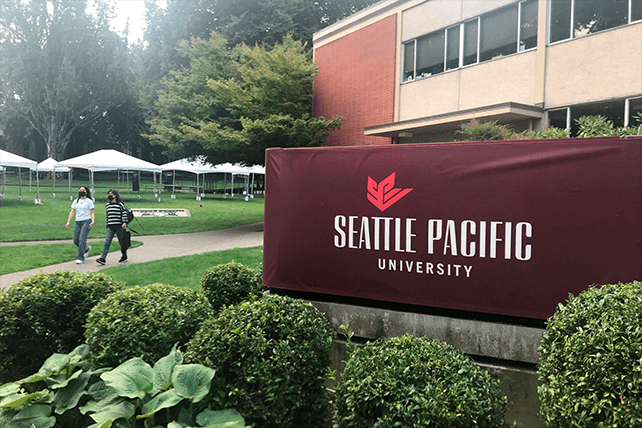 (RNS) — Half a mile from the entrance to Seattle Pacific University, a massive billboard with a rainbow LGBTQ pride flag and the words "all are welcome" looms over a bustling intersection.
The billboard — placed by Pacific Lutheran University, a queer, inclusive Christian school about an hour south in Tacoma, Washington — is viewed by some as an intentional jab at SPU and its LGBTQ policies. In the past three years, the university, which is associated with the Free Methodist Church, has seen lawsuits, student sit-ins and rainbow-flag graduation protests against the university board's ban on employee same-sex sexual activity.
Now, a new display policy for faculty and staff at the college says the university may "restrict expression" that is "incompatible with the mission and functioning of the University," including displays that are attached to windows and building exteriors. It also gives the university the right to remove displays in violation of the policy without prior notice.
The new policy, according to students and faculty who oppose it, is targeting the pro-LGBTQ paraphernalia that has adorned numerous faculty windows and other areas of campus over the last three years.
"This, to me, was yet another nail in the coffin to completely erase queer identity on campus," Christopher Hanson, director of music education and the only openly queer faculty member at SPU, told Religion News Service.
Hanson, whose office door is "littered" with LGBTQ "propaganda," described himself as the "right kind of queer, quote unquote" to pass the board's policies, because he is bisexual and married to a woman.
Bill Purcell, professor of communication at SPU, sees the new policy as part of a larger pattern of conservative churches drawing a line in the sand on theological and social issues. He said administrators likely adopted the policy to realign the university with what they perceive as the values of the Free Methodist Church.
"I don't think that they are necessarily intending to do it punitively," Purcell said, "But it comes off that way."
The policy was announced in July in an email sent to staff and faculty by Kim Sawers, vice president for business and finance. The email said no materials would be removed while faculty were away from campus for the summer. As of Thursday, Sept. 28, none of the faculty, staff or students reached by RNS had heard of displays being taken down.
"No one is going around randomly removing things," Sawers told RNS. "Policies are meant to guide, and have consistent understanding and shared understanding. There are not display police coming around. That's not what this is at all."
The policy doesn't mention LGBTQ paraphernalia by name, leading to some confusion among faculty about what exactly is or isn't allowed. But others view the policy's ban on window displays and materials that violate the school's mission as a direct reference to pride flags and pro-LGBTQ signs and banners.
"The way that I interpreted it, it felt like it targeted specifically those types of posters," said Nikka Dellosa, a staff member in the health and wellness department who designed signs with pride flags and phrases like "Christians love LGBTQIA+ people" and "SPU is not the board" that have been widely shared around campus. "It didn't seem very confusing at all, from my perspective."