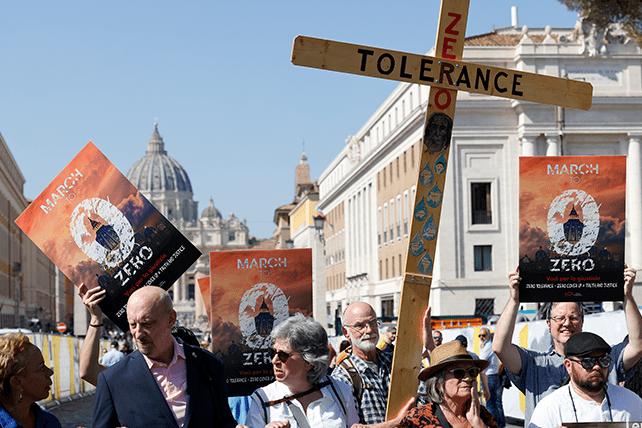 VATICAN CITY (RNS) — As Catholic bishops and lay believers meet in Rome this month for a historic Vatican summit to discuss power structures in the church, sexual abuse survivors and their advocates say their topic will be on everyone's minds but nobody's agenda.
The Synod on Synodality, which runs Oct. 4-29, has been called to tackle questions of clergy leadership and accountability, but above all clericalism, which occurs when the ordained claim special privileges or are treated as if they are above reproach. These questions are central to the issue of sexual abuse, itself strongly tied to how power is used and where it is distributed in the church.
Sexual abuse appears 20 times in the 60-page "Instrumentum Laboris," the working document that will guide discussions at the synod, a frequency survivors point to in voicing concerns that while sexual abuse may be mentioned at the synod, they should expect no significant movement on the issue.
"The concerns of clergy abuse victims, who have long borne the consequences of unconscionable decisions made at the highest levels, still have no place in the decision-making process," read a statement Friday (Sept. 29) by the Survivors Network of those Abused by Priests, known as SNAP. "Until this changes, the clergy sex abuse scandal will continue, and more young lives will be forever blighted."
Survivors organizations are arriving in Rome this week still smarting from Pope Francis' decision in July to appoint Cardinal Victor Manuel Fernández to head the Dicastery for the Doctrine of the Faith, despite Fernández's past support for an alleged abuser priest in his home diocese of La Plata, Argentina.
The newly minted cardinal later admitted in an interview that he doesn't "feel qualified or trained" to address sexual abuse cases, which are among the main responsibilities of the Vatican's doctrinal department.
"By appointing Archbishop Fernández to the DDF and naming him a Cardinal, Pope Francis clearly demonstrates that it is business as usual in the Catholic Church," SNAP's statement said.
Francis began his pontificate with what was described as a "zero tolerance" policy toward sexual abuse, but the results have been mixed. In 2019, Francis decreed that documentation about sexual abuse should no longer be designated as a "pontifical secret" — the Vatican's version of classified material. But many victims claim that they are still not fully informed of the result of criminal trials against their abusers.
In February of that year Francis also convened a summit of prelates, experts and abuse survivors at the Vatican to address the subject of abuse, but the highly anticipated meeting did not enact any decisive regulation.
Francis followed with a document, "Vos Estis Lux Mundi" ("You are the light of the world"), which attempted to enshrine accountability in the church for covering up or failing to address abuse cases and a mandatory reporting system in every diocese, but its application remains inconsistent and unreliable.
Survivors advocates say their biggest concern is that the pope is willing to waive his own laws on abuse when those accused are his friends or allies. As Chile was grappling with a crisis tied to the abuser priest Fernando Karadima in 2018, Francis rose to the defense of one of the priests' proteges, Bishop Juan Barros, dismissing as "calumny" the reports accusing him of covering up the abuse. While Francis eventually retracted his statement, the episode left a scar in the Chilean Catholic community and beyond.