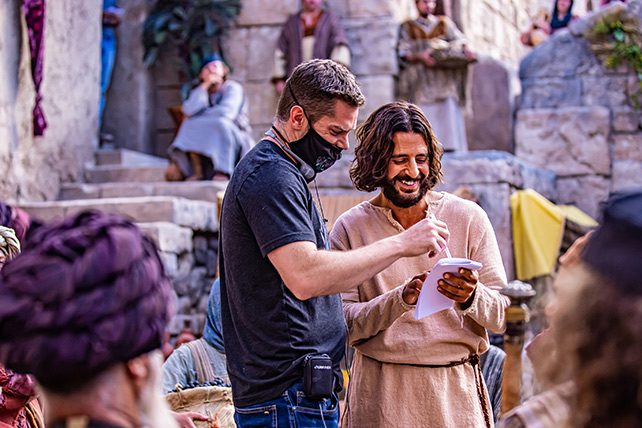 VATICAN CITY (RNS) This week Pope Francis met none other than Jesus in St. Peter's Square. While greeting faithful on Wednesday (Aug. 11), the pope spoke with Jonathan Roumie, who portrays Christ in the series The Chosen and was visiting Rome to promote the show.
"Meeting the pope was essentially having a childhood dream be realized," Roumie told Religion News Service later that day at Rome's Hotel Indigo St. George.
Roumie has often spoken about his journey of "total surrender" to Jesus, a journey that led him from being a broke aspiring actor to the star of "The Chosen," a series recounting the stories of the Gospels and currently preparing to film its third season, in March 2022.
Roumie had written down a few lines in Spanish to tell the Argentine pontiff in the long-awaited encounter, where he thanked Francis and asked for his prayers as he faces the challenge of interpreting Jesus. The pope's face lit up when he learned this, Roumie said, and Francis told him "that it's important that I invite him, that I find him and that it make me very happy."
Related article: 'The Chosen' Season 2—The Binge-Worthy TV Series Perfect for the Entire Family
"The Chosen" was released in 2019 and became a global success thanks in part to its crowdfunding efforts — the largest ever recorded for a media project. The show has garnered more than 300 million viewers worldwide. Furthering its popularity, the series is readily available for free through "The Chosen" app.
A Catholic, Roumie was able to meet the pope through recommendations written by Bishop Robert Barron, who serves as auxiliary bishop of the Diocese of Los Angeles, and the Rev. James Martin, who is an adviser to the Vatican's communication department.
This moment, with @Pontifex…. 😭🙌🏽🙏🏽💕🇮🇹 pic.twitter.com/iIRhnGSH2I

— Jonathan (@JonathanRoumie) August 12, 2021
Roumie has been in Rome since last week and has visited the city and its historic sites, later accompanied by the creator, director and co-writer of the show, Dallas Jenkins, and Neal Harmon, the CEO of Angel Studios, the show's distributor.
Rather than being attracted to the monuments, basilicas and artwork of the Eternal City, the cast and creators of "The Chosen" were drawn to its relics, the testaments of the historical reality of Jesus and his disciples.
"Jonathan and I had a reflective moment seeing the tomb of the remains of Philip and James," Jenkins told RNS, referring to the tombs of the apostles kept in a basilica in Rome. "That was a profound moment for me, just to be reminded that we are portraying real people," he added.
Roumie was moved by a much larger relic, the 28 marbled steps known as the Scala Sancta or "Holy Stair," located near Rome's Archbasilica of St. John Lateran and believed to be the same steps Jesus climbed in Jerusalem to undergo trial before the Roman Praetor Pontius Pilate.