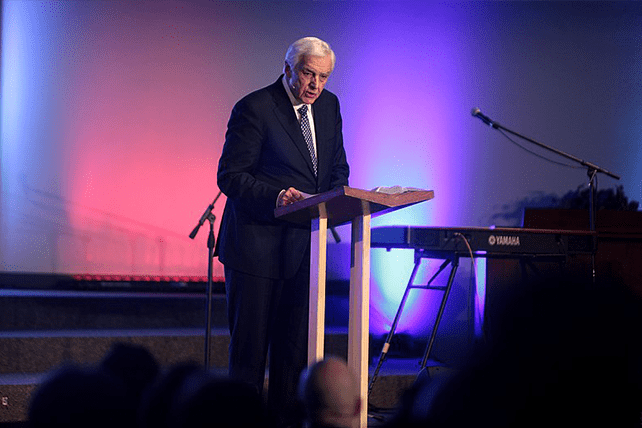 On Wednesday (Oct. 11), San Diego pastor Dr. David Jeremiah expressed his support for Israel amid its conflict with Hamas following a surprise attack by the Islamist militant group over the weekend. 
In addition to being the longtime pastor of Shadow Mountain Community Church, Jeremiah is the author of numerous books, including "Agents of the Apocalypse: A Riveting Look at the Key Players of the End Times" and "Is This The End? Signs of God's Providence in a Disturbing New World." 
Since Jeremiah is a popular proponent of dispensational theology, a system of teaching that emphasizes end times predictions, his parishioners and readers are quick to ask for his insights during international conflicts, particularly those involving Israel. 
However, rather than offering prophetic interpretations, Jeremiah expressed grief over Hamas' attack on Israel. In a statement given to ChurchLeaders, Jeremiah urged Christians to pray for Israel, even offering the prayer that he will be bringing to God.
RELATED: 'Israel Is at War'—Netanyahu on 'Gruesome' Surprise Attack by Hamas
"Israel is God's chosen people, and her borders are the boundaries of the Promised Land. Today, I am grieved by the attacks that have besieged the nation of Israel over the last few days," Jeremiah said. "The loss of life, the bloodshed, and the destruction of property are heartbreaking."
"But in this time of chaos and terrorism, I am reminded of God's words to Abraham when he chose him to be the father of this great nation, 'I will bless those who bless you, and I will curse him who curses you.' (Gen. 12:3)," Jeremiah added. "As Christians we recognize God's purpose for Israel, and we must stand with her."
"Today, and in the coming days, I ask that you join me in petitioning the Lord on behalf of our brothers and sisters in Israel with the prayer below," Jeremiah said. 
The prayer Jeremiah offered is as follows: 
Heavenly Father,
The psalmist tells us to "pray for the peace of Jerusalem."
So I pray for peace for Your chosen people, Israel, and their beloved city today.
You have planned for Israel, provided for Israel, and protected Israel for thousands of years.
RELATED:'Is This Attack on Israel…A Fulfillment of Bible Prophecy?'—Pastor Greg Laurie Answers