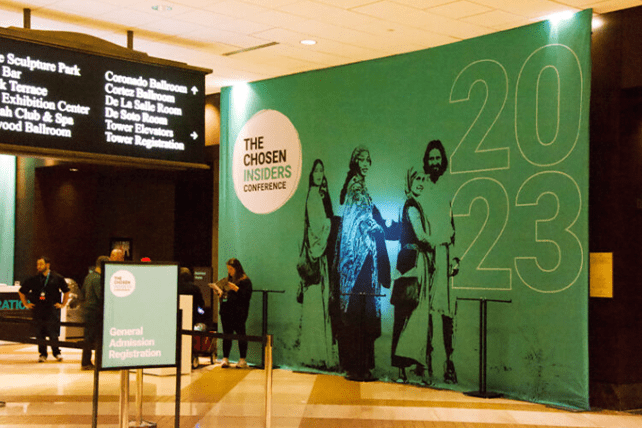 DALLAS (RNS) — Over 3,500 fans attended The Chosen Insiders Conference in Dallas over the weekend to celebrate "The Chosen," the popular film series about the life of Jesus and his followers in first-century Israel under Roman oppression.
"ChosenCon," a two-day conference, gathered fans from around the world, some as far as Australia and South Korea, to meet with the cast and crew, including actor Jonathan Roumie, who stars as Jesus.
"It was overwhelming and beautiful to see over three thousand people in one room cheering and laughing and celebrating our show. But even better were the countless stories of impact viewers were able to tell us personally," Dallas Jenkins, the show's creator, told Religion News Service in a statement after the conference.
Thomas Mathew Rodre, 72, from Brick, New Jersey, said he came to the conference because he had a spiritual conversion after he watched the first episode eight months ago.
"This scene, where Jonathan Roumie, who plays Jesus, redeemed Mary Magdalene, had such a spiritual impact on me. I accepted Jesus Christ as my savior right then and there and became born again," Rodre said.
Rodre gives credit to Jenkins for following God in choosing to make "The Chosen."
"Jesus is using 'The Chosen' as an instrument through Dallas Jenkins — and his acceptance of the role and responsibility — to reach millions of people to bring the good news to millions of people worldwide. And it's having that effect," Rodre said.
Sunday night (Oct. 15), Jenkins announced to attendees that the show's fourth season will be released exclusively in theaters, starting in February. After the full-season run in theaters concludes, the show will debut across streaming platforms.
"The Chosen," which has 10 million followers across social media platforms, previously first released its episodes on a free streaming app, adding some special showings in theaters as it grew in popularity. In November 2022, the show released the first two episodes of Season 3 in theaters and grossed $8.75 million in sales on opening weekend, debuting at No. 3 in the box office.
Season 4 has been challenging, Jenkins told fans at ChosenCon, attributing the difficulty to spiritual attacks.
"This whole season was a slog from Day 1. I don't know why," Jenkins said Saturday night. "I think we've noticed that as the show has grown, so has the difficulty in the challenged attacks from the enemy. And so during Season 4 it seemed like we just couldn't ever escape."
A theme throughout the conference was the show's choice to humanize Jesus and his followers, particularly the women in his life.