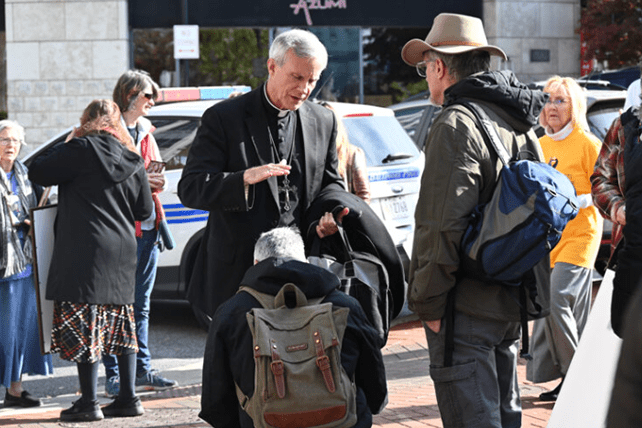 BALTIMORE (RNS) — A Texas bishop recently removed from his post by Pope Francis made an appearance near the U.S. Conference of Catholic Bishops' annual gathering this week but avoided entering the building, telling reporters on Wednesday (Nov. 15) that he was respecting a request from the Vatican's ambassador to the United States.
Until Saturday (Nov. 11), Joseph Strickland was the bishop of Tyler, Texas, a post he had held since 2012, when he was appointed by Pope Benedict XVI. But Strickland became a source of perpetual controversy, praying at a Jericho March event in the lead-up to the Jan. 6, 2021, insurrection at the U.S. Capitol and voicing support during the COVID-19 pandemic for priests who defied their bishops by refusing to be vaccinated. In May, Strickland accused Pope Francis on social media of "undermining the Deposit of Faith," the body of Catholic belief.
Strickland's actions earned him a private dressing-down by then-Archbishop Christophe Pierre, the Vatican's ambassador to the U.S. (and now newly minted cardinal), at a 2021 meeting of the USCCB, followed this summer by a visit from Vatican investigators to his diocese. When rumors circulated that the Holy See was preparing to force Strickland's retirement, he told Religion News Service that he would not resign voluntarily.
Strickland's removal did not technically bar him from attending USCCB's meetings, but he did not appear in the hotel ballroom in Baltimore's Marriott Waterfront where bishops gathered this week for their annual fall meeting. Instead, he appeared around the gathering's edges, his whereabouts becoming a source of intrigue: He was spotted by reporters walking and praying with a small group of men on Monday, in a nearby hotel on Tuesday and at an anti-abortion event just feet away from the hotel door on Wednesday afternoon.
After the anti-abortion event, which Strickland has visited in past years, he stopped to speak with a group of journalists. Standing near supporters who held signs that read "We stand with Bishop Strickland," he expressed bemusement about his situation and his future.
"I really don't know," he said. "My next step, after this week: I'm going to Thanksgiving dinner at my sister's house — that's all I know."
He added: "I'm a bishop without a diocese, which is a strange place to be. But that's where I am."
He said some of his fellow bishops had reached out to him, and at least one said they were "afraid" to take public positions similar to those Strickland has. The Texas native declined to single out any prelate by name, however.
Strickland has spent years building a following online, particularly among conservative Catholics. Some of them stood nearby among the small crowd that had gathered for the anti-abortion event.
Becky Ford, who said she had traveled to Baltimore from St. Mary's County, Maryland, said, "I've had the fortune to meet Bishop Strickland twice — I follow him on Twitter. I get the little alerts."
She added: "He just speaks the truth. And what has happened to him is kind of heartbreaking for a Catholic. When I think of him, I think of hope."