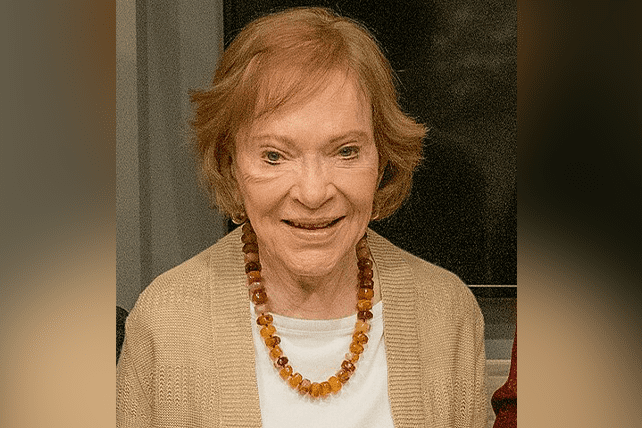 Former first lady Rosalynn Carter is being remembered for her faith and service in the wake of her passing on Sunday. Carter, who was the wife of more than seven decades to former president Jimmy Carter, died at the age of 96 of natural causes. 
The 99-year-old Jimmy Carter, who is himself receiving hospice care, expressed love for his late wife in a statement announcing her passing. 
"Rosalynn was my equal partner in everything I ever accomplished," the former president said. "She gave me wise guidance and encouragement when I needed it. As long as Rosalynn was in the world, I always knew somebody loved and supported me."
Rosalynn Carter, a lifelong Baptist and Georgia native, will be remembered for her advocacy for mental health care reform and the decades of humanitarian work she undertook alongside her husband. 
RELATED: Jimmy Carter on the Progress of the Evangelical Church
Following Jimmy's one-term presidency, the couple moved back to Georgia and founded The Carter Center in 1982. The nonprofit organization's mission statement says that the center was founded with "a fundamental commitment to human rights and the alleviation of human suffering" and "seeks to prevent and resolve conflicts, enhance freedom and democracy, and improve health."
Carter leaves behind four children, 11 grandchildren, and 14 great-grandchildren. 
A number of Christian leaders have taken to social media to express their admiration of Rosalynn Carter, including Southern Baptist Convention (SBC) president Bart Barber. 
"On behalf of millions of Southern Baptists, I send condolences to President Jimmy Carter, to the Carter family, and to the people of the Plains Baptist Church upon the death of First Lady Rosalynn Carter," wrote Barber. 
"Her life of public service spanned nearly a century and revealed her heart of compassion for her fellow citizens," Barber continued. "For many years, the Carter family worshipped within our family of faith. We grieve with her family and friends at her passing."
RELATED: SBC President Bart Barber Under Fire for Donating to Opponent of SBC Pastor in Oklahoma State Senate Race
Though the Carters had long been Southern Baptists, in Jimmy's case for three generations, the couple parted ways with the denomination in 2000 after the SBC updated its statement of faith to explicitly bar women from serving as pastors.