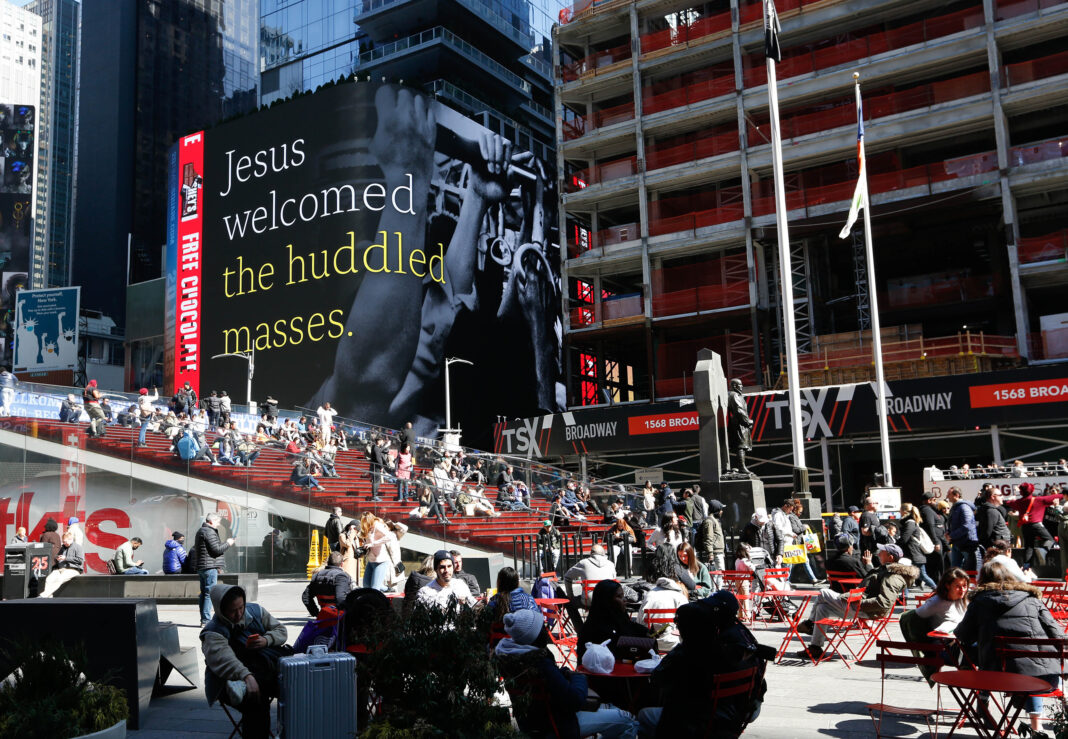 "He Gets Us isn't just reframing Jesus.
It's repositioning Jesus followers."

—Jon Lee, principal, LERMA/
When I get the opportunity to speak at a church or a conference, I'll often introduce myself as the person with the most secular job in the building. I work for an advertising agency. And though my clients' brands tend to be faith-based nonprofits, or consumer brands with faith-oriented ownership, the majority of the rest of our company's clients are decidedly secular. We spend our days helping our clients build their brands while navigating the ever-changing expectations of culture.
As you may already know, brand building is the discipline of promises. Organizations that make, communicate, and keep promises consistently have strong brands. Promises help us create expectations — mental short-cuts to aid decision making. People process promises both rationally and emotionally, and there is a strategy to manage how your promise is experienced. We call it branding, and it requires a lot more than a clever ad campaign.  
Whether we are helping The Salvation Army, Avocados from Mexico, The Home Depot, or our newest campaign running nationally right now, He Gets Us, our job is the same: Help our clients make, communicate, and keep their promises well. The better our clients are with promises, the stronger their bond is to people who purchase or affiliate with their brands. 
Which is why I am always thrilled when I get the opportunity to serve a faith-based brand. After all, Christian ministries should be the strongest brands in the world. We represent the greatest promise ever made to humanity, given to us by the creator of the notion of a promise, whose entire language is promise. Christian leaders should be master brand builders. 
So, when we were approached to build a creative campaign to help reclaim the promise of Jesus in America, we recognized this assignment for what it is: a generational opportunity to play a role in an important move of God. 
Our engagement started with a simple question at the top of a strategy brief: How did the world's greatest love story come to represent hate for so many Americans? An alarming premise to be sure, but the data backs it up. 
We pored over reams of research that the lead agency, HAVEN, had spent nearly a year compiling before we even began. It described the mindsets of people who are skeptical of our faith—a group that now comprises more than a third of the population. 
And the same insights emerged from each and every study. People don't mind Jesus. In theory, most people really like the ideas Jesus purportedly stood for. But this audience just isn't willing or able to believe that Jesus is a divine Savior of the world. And they don't trust people who make those claims. They see most Christians as judgmental hypocrites. And so, they often write off the entire idea of Jesus for their lives. 
I think Mahatma Gandhi might have captured the sentiment of the modern skeptic perfectly when he said, "I like your Christ, I do not like your Christians."
We developed the ads for the He Gets Us campaign to help reclaim America's concept of Jesus. The campaign meets people where they are and tells the story of Jesus through a modern lens. Unlike most faith-based advertising efforts, He Gets Us doesn't require the viewer to accept claims of divinity, but simply re-introduces Jesus, a man who really lived. A human who experienced the same pain, and conflict, and emotions, and challenges that we experience today. A man who started a radically inclusive love movement that is still impacting the world more than 2,000 years later.
We want all people, no matter what religious beliefs they hold—or don't—to explore the example of Jesus' life and the relevance it still holds for all of mankind today. We want to invite them into his story. 
And so far, the campaign seems to be working. We've reached over 100 million people on YouTube alone. Between 50,000 and 90,000 people visit HeGetsUs.com every day. Thousands of people are exploring the story of Jesus in YouVersion reading plans, signing up for Alpha groups, and initiating chat conversations with the team. We are encouraged by what we're seeing. 
He Gets Us demonstrates that we can use advertising to plant a seed of curiosity that the Holy Spirit can use. But we also know that a campaign alone won't accomplish our goal. To reframe Jesus, we must also work to help reposition our most compelling communications touch points: Jesus followers. 
The Apostle Paul understood our role in communicating the promise. In 2 Corinthians 5:20, he describes us as "ambassadors, as though God were making an appeal through us." 
To put it in crass marketing terms, we are all individual tactics in God's brand strategy. And our collective role in decades of escalating cultural divisiveness has left many skeptics feeling like Jesus represents what his followers have come to represent in their minds:  judgment. 
But we know better. We know that the vast majority of committed Christians are imperfect, yet faithful ambassadors of God's love and reconciliation. We know that the majority of Christians continue to be the most charitable and loving people on the planet. And we know that a generation of rapidly evolving media consumption has made it seem like a very loud, very small minority of rage addicted, scandal ridden Christian leaders represent all of us, and represent our savior. 
We believe we are playing an important role in what my father's generation would have described as a great revival. We are blessed and called to use our skills and experience in brand strategy to reframe the promise of Jesus for a generation. 
You are blessed and called too. Because as this campaign grows, we believe millions of people who start by exploring their curiosity about Jesus will find their way into your churches and ministries. And that is where we will have a new opportunity to introduce them to our savior. 
This campaign has the potential to become a movement, but we'll need a lot more than a few clever ads. We'll need an army of radical love ambassadors willing to do everything short of sin to demonstrate that above all, Christians represent a confoundingly loving, sacrificially generous, joy-filled version of humanity reconciled to the Creator of the universe. To put it bluntly, this effort will be made or broken by your example of Jesus to this audience. We believe that the vast majority of churches and Christian leaders are brilliantly consistent promise keepers. We're counting on it, in fact. 
I have every faith that by His Grace we will succeed together.  
To learn more about the campaign, visit http://hegetsus.com  or to find out how you can partner, go to http://hegetsuspartners.com