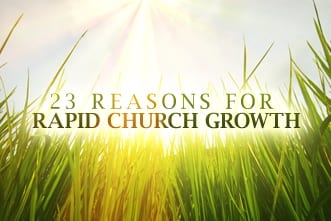 The Church Planting Alliance of South Africa published a handbook in 2000 intended to encourage, equip, and guide church planters, pastors, intercessors, and denominational leaders toward the strategic challenge of saturation church planting in South Africa and beyond. The handbook included statistics, strategies, and stories of church planting activities. One of the articles that captured my attention focused on Rapid Church Growth in China.
From April 1993 to April 1996, growth among house churches [in one part of China] increased from three churches with less than 100 members to over one hundred churches with over 16,000 members (by the end of 1998 they had grown to over 55,000)…Primarily second, third, and fourth generation churches [were] planted entirely by local believers intentionally targeting the least evangelized areas and groups…All growth was from adult conversion growth rather than transfer or biological growth. Average reproduction time was six months.
As you read through these reasons for growth, consider what ramifications they present for your ministry in your context.
Reasons for Growth
1. Society in XYZ was undergoing rapid change during the period under examination. The late 1980s were pivotal in XYZ's history. After thousands of years as a cultural and economic backwater, it was coming into its own within the national political make-up. The rapid societal change created a hunger for spiritual change as well. Traditional religious and spiritual movements as well as Christianity experienced surges in growth following these changes.

2. Government opposition and persecution resulted in a church that is relatively free of casual believers. Since a Christian commitment potentially has negative repercussions, people who do make such a commitment tend to be more serious about their faith.
Don't Miss
3. The churches displayed a remarkable degree of boldness despite the threat of persecution. This was displayed in their bold witness as well as in their loud and fervent singing in their worship services. They also demonstrated great trust in one another and in new believers. Such trust is in stark contrast to the extreme distrust that was engendered by the Cultural Revolution when the people learned to distrust everyone. This trust is attractive and surprising to unbelievers.
4. The believers demonstrated great love toward one another even when they are not relatives. This extended to the point of helping one another with financial needs. Such love is in sharp relief to the selfish and materialistic bent of the culture. This contrast served to draw attention to the Christian community.
5. New believers were baptized soon after their conversion, even in totally pioneer areas. This served to cement their new commitment and communicated their full responsibility and participation in the church from the very beginning.