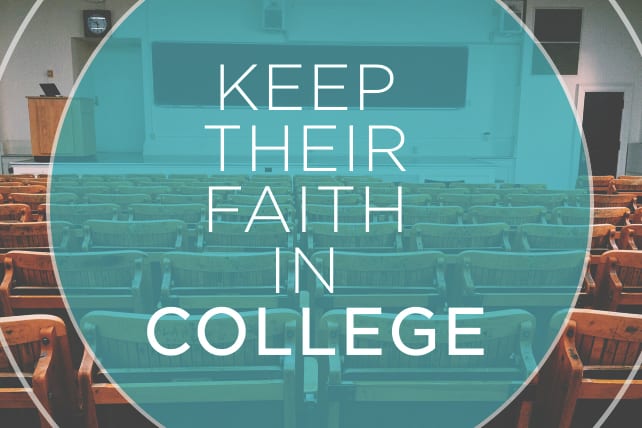 High school graduation is upon us, and if statistics ring true, then a majority of teenagers who currently claim to be Christians will abandon their faith sometime after the tassel is turned. Some will turn on it and become atheists. Others will put it in a drawer for a later time down the road. Some will have it eroded by hedonism or the Philosophy 101 professor of their secular university.
It doesn't have to be this way. I'm convinced that graduating seniors can not only keep their faith after high school, but learn to advance it effectively.
So how can you help get graduating seniors keep (and advance) the faith in those tricky college years? Here are four ways:
1.  Pray for them to not just survive, but thrive.
Prayer is a vastly underrated tool in helping our teenagers keep their faith long-term. There's a reason that Jesus escaped so much to pray (Mark 1:35-36) and that's because he knew that prayer worked.
Part of his get-away-to-pray quest was interceding on behalf of his young disciples. We see this especially in Luke 22:31-32 when he tells Peter, "Simon, Simon, Satan has asked to sift all of you as wheat. But I have prayed for you, Simon, that your faith may not fail. And when you have turned back, strengthen your brothers."
Jesus was praying that Peter's faith would stand strong in the midst of trial and temptation. He also prayed that Peter would not just survive but thrive, by helping the mostly teenaged disciples stand strong well after he was gone. 
In the same way we must pray for our graduating seniors to have a strong faith in the midst of the inevitable trials and temptations they will face. We must also pray that they, like Peter in the book of Acts, will thrive by strengthening the other believers around them to serve Jesus with all of their hearts.
2.  Mentally prepare them for what is coming.
Teenagers need to know that the years following high school can be filled with intense temptations. We need to mentally and spiritually prepare them for this battle.
The Apostle Paul warned the Ephesian believers about the upcoming trials that awaited them in Acts 20:29-31, "I know that after I leave, savage wolves will come in among you and will not spare the flock. Even from your own number men will arise and distort the truth in order to draw away disciples after them. So be on your guard!"
In the same way we must prepare our teenagers by speaking forthrightly about the temptations that await them after high school. We must help them be on their guard and learn how to be fully "armored up" with the spiritual protection that Jesus provides every believer (Ephesians 6:11).
3.  Inspire them to look at the next few years missionally.
Mormon teenagers graduating from high school often take two years to go on a mission before they head off to college. During these two years they spread the message of Mormonism door to door across different parts of the planet. After two years of door knocking and proselytizing, the average Mormon young person knows what they believe and why they believe it.
What if we trained our young people to look at their university training as a four year mission trip? What if we helped them to tackle their college years as missionaries to their peers?
Instead of just playing "defense" by begging our graduates not to abandon their faith, let's equip our graduates to play "offense" by teaching them to spread the Gospel. In the process their faith will grow deeper and their Christian convictions will grow stronger.
If you need help equipping your high school seniors (or juniors or sophomores or freshmen for that matter) to share their faith, give them the Dare 2 Share Field Guide. This little book will make a big impact in preparing your high schoolers to know how to clearly, compassionately and confidently share the Gospel to anyone and everyone.
4.  Encourage them to plug into a strong Christian community.
A coal without a fire will soon burn out. So will a Christian without a community.
As Hebrews 10:24-25 reminds us, "Let us think of ways to motivate one another to acts of love and good works. And let us not neglect our meeting together, as some people do, but encourage one another, especially now that the day of his return is drawing near."
Finding a solid Christian community in any university setting is essential for teenagers to be "motivated" and "encouraged" to keep and spread the faith. Too often incoming Christian college freshmen get involved in the wrong circle of friends. When this happens the gravitational pull of temptation and sin become harder and harder to resist. As 1 Corinthians 15:33 reminds us, "Bad company corrupts good character."
But when incoming freshmen circle themselves with on-fire believers right away, the pull is in an upward direction. So how can we help them do that?
Campus Renewal is a great resource to help graduating high school seniors connect with solid campus ministries at their university of choice BEFORE they even get there! Their mission is to "create and catalyze united movements that transform college campuses for Christ. By bringing students, campus ministries and local churches together in prayer and evangelism, we strengthen the influence of the Body of Christ on campus."
If you're a parent of a graduating senior who is going off to college soon then get him or her connected to a solid campus ministry before they even get there. If you're a youth leader then make sure you, your seniors and their parents use these resources to help their college years become some of the most spiritually impacting years of their lives!
Let's stop playing defense and let's start playing offense by inspiring, equipping and unleashing our graduating seniors to transform their campuses for Christ!
What are some other ideas to help our graduating seniors keep (and advance) the faith after the tassel is turned?
This article originally appeared here.