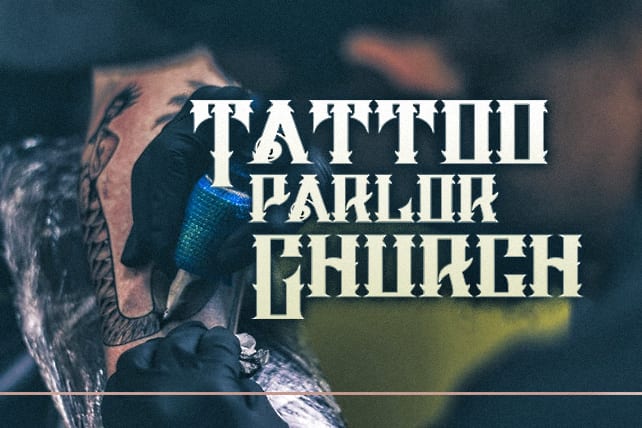 Would you start a tattoo church?
"Preacher…this is a really bad idea."
The woman standing in my office stating these words was a matriarch of our congregation; a person of influence, whom I normally looked to for guidance and support. Being that I am a person with a fairly high risk-tolerance, it is insight like hers that often helps me see things from a different, more grounded, perspective.
"You do know what the Bible says about tattoos don't you? Do you understand that people will leave our church for this?" she admonished. All valid cautions, yet this time there was something really stirring in my soul—a stirring I recognized as the Holy Spirit.
Tattoo Church: A Risky Expression?
You see, the issue at hand was a new fresh expression we were preparing to launch that we now call Tattoo Parlor Church. In the ideation stage, the concept was simply to be an incarnate presence for Christ in local tattoo shops.
We came to the idea through discovering what God was doing in a micro-culture within a micro-culture. At Wildwood United Methodist Church, where I serve as the senior pastor, we have a large recovery community, and a worship experience geared toward that population. I observed that almost weekly, folks were coming in with fresh ink, ranging from favorite sports teams and Chinese lettering, to portraits of loved ones or lyrics to a song.
While I do believe in the marvelous nature of the body, male and female, created in the very image of God, and I don't take lightly permanently decorating it, I also take very seriously our call to be the embodiment of Jesus' mission to "seek and save the lost" (Luke 19:10) and follow the incarnate way of Christ as we do so (John 1:14). If we, as the body of Christ, are an extension of his mission in the world, we have a responsibility to go after the lost one (Luke 15:4). As Christians we are called to engage and transform the culture for Christ, not ignore it.
Grandma's New Ink
Let me share a story from a recent gathering of our tattoo church.
Tattoo Parlor Church has grown now to a full Bible study, a little music, Holy Communion and, yes, all in a local tattoo parlor in downtown Ocala. In the "loving and serving" stage of the fresh expression process, we began to go out in teams on the downtown square where we would pray and minister to those experiencing homelessness.
At this particular gathering, not only did one of our artists accept Christ and receive Communion (a man who hasn't been in church since he was 12 years old), but guess who got some ink? Yes, the matriarch herself, in fact two of them, 70+ years old getting their first tattoos, cross and flames to be exact!
Not only did they get tatt'd up with Christian symbols, but one of them took radical incarnation to a whole new level. As we were praying with folks and explaining and offering communion, we encountered a gentleman with a horrible foot wound. You could literally smell the infection when you got within 10 feet of him.
I consider myself a fairly bold disciple, but that day, our matriarch, 70+ years old, surpassed me.
Leadership Slinkies
J.R. Briggs said "leadership is like a slinky going down stairs." You may lead one move, but you are following the next. That day Sandra became the leader.