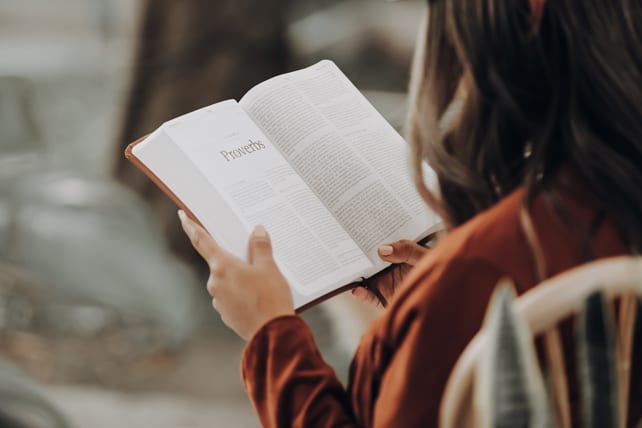 You have time to read the Bible now! Last week I saw my friend Josh Straub post something rather convicting. He essentially said that if we don't spend time with our kids during this season then "time" has never really been the problem. He is right. Parents (including me) often lament the reality that busy schedules are the reason we are not spending more time with our kids. But if our schedules are suddenly less busy and we find we are not spending more time with our kids, then the busy schedule was not the culprit. We have lost the desire or we have forgotten how to play. Something else is wrong. The same is true with reading the Bible.
The most common excuse we give to not read the Bible is time. "We don't have enough time."
I have given the excuse too! And I have given the excuse in the midst of knowing that reading my Bible is the biggest predictor of my spiritual growth. How do I know that? I was on teams that researched it and wrote books about it, yet I still struggle to practice it! Multiple research studies discovered that engaging with the Scripture impacts our spiritual growth more than any other factor. In fact, the discipline of reading the Bible positively impacts every other spiritual discipline. The Lord uses His Word to conform us more into His image. We are more fruitful and more filled with His peace when we read the Scripture. And we could all use peace during this chaos.
So now is the time when we discover if time has really been the issue. Or if something else is wrong, if we have grown lazy in our faith, or if our affections for Christ have waned. I want to read my Bible more during this time. I want my kids to see me read my Bible more. Here are three suggestions for reading the Bible more during this crazy time. And we know this is good for us. We know that in times of uncertainty we can stand on the certain and sure foundation of His Word.
Set a time and a trigger to read the Bible.
I have a place where I sit each morning to drink my coffee. When my Bible is there, I am more easily reminded to read it. Look at your disrupted schedule and choose a place in it that you can make reading your Bible a consistent practice.
Choose a new way to engage as you read the Bible.
When I have gotten tired of a particular exercise routine, I find a new way to exercise. I may buy a new biking shirt with the promise to myself that I will wear it as I bike. Or I may pull out an old pair or running shoes and put them by the front door. I find a way to do something new and I visibly mark it. Otherwise it only lasts a time or two. We can do this with reading the Bible too. We can find a new way to engage and mark our commitment to reading the Scripture.
In recent months, I have really enjoyed two new study Bibles that have helped me engage with the Lord. The Ancient Faith Study Bible helps me see what theologians from centuries ago have written about a passage. I absolutely love it. And the new Tony Evans Study Bible is beautiful and helps me see what Dr. Evans has thought or taught about a particular passage.
Ask someone to hold you accountable to read the Bible.
You don't have to go broad on social media, but you can share with a friend our spouse that you want to read the Bible more during this season. Ask the friend or spouse to check-in on you once a week. Just knowing you will be asked can remind you to get into the Word.
Now is a great time to let the Word of Christ dwell richly among you!
This article about time to read the Bible originally appeared here.