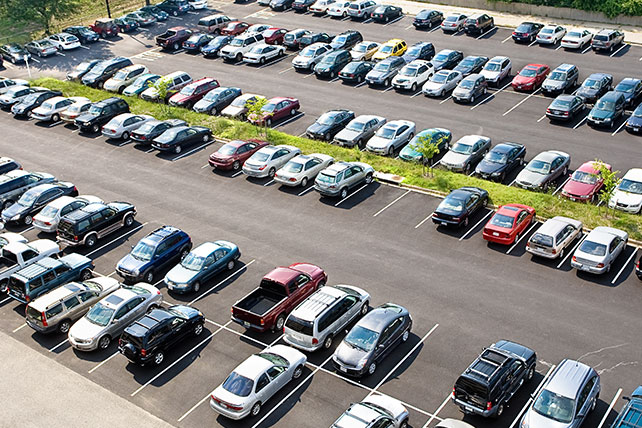 In these days of COVID, church parking lots have become more important; in fact, they're where the worship service takes place in some cases. Here are some general parking lot problems I've seen, listed in no particular order.
The parking lot entrance is not easily visible. Sometimes the location of the church building itself isn't the best. At other times, the location is not poor, but the entrance to the parking lot is difficult to see from the road.
The landscaping is poorly tended. Uncontrolled weeds, dying flowers, uncut grass, and old mulch are not a good witness to the community.
Not enough parking is available. Generally, the 80% rule about church facilities applies to parking as well: when 80% of the parking spaces are full, it is likely that attendance will plateau until more space is available.
No guest parking is available. The church that has no marked guest parking is inadvertently saying (a) we do not expect guests, or (b) we see no reason to treat guests in a special way.
Guest parking is available, but it's hard to see. Unless someone directs to that parking or those spaces are immediately obvious, guests are likely to miss that benefit. Visitors aren't typically looking for guest parking.
No greeters are in the parking lot. Without being overly intrusive, parking lot greeters can welcome guests, direct them to an entrance, answer questions they might have, provide umbrellas when it's raining, assist families with children, and help the elderly.
The church has parking lot greeters, but they're not easily identified. Because the parking lot typically has a large number of people wandering around, greeters should be clearly identified by something like a vest.
The traffic flow is poor, and no one is directing it. This problem is often more acute in congregations that have worshippers from multiple services entering and exiting at the same time. Parking lot attendants who direct the traffic can make a big difference.
The walk from much of the lot to the front door is long, and the church provides no shuttle option. Those arriving later than others frequently find open spaces only in the distant areas of the lot, and the walk is long. A golf cart might be a wise investment for this church.
The church provides no security in the parking lot. An unattended parking lot during a worship service is regrettably an open invitation for thieves.
No one is praying for this ministry. This work is just that – a ministry – and churches should prayerfully and wisely recruit workers to do these tasks. Moreover, they should commission these workers and pray weekly for them as they serve God in the parking lot.
Does your church have a parking lot ministry? What other problems have you seen? What effective ministry ideas might you share?  
This article originally appeared here.