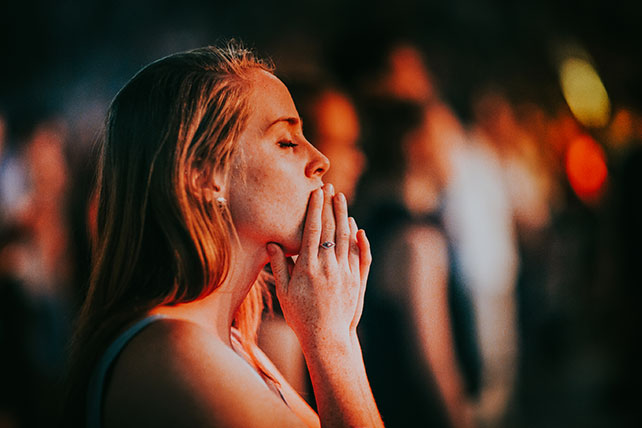 We've all been there. We pray. We wait. We wait.
And then we wonder: "What did I do wrong?"
Sometimes the problem isn't on your end.  It might just not be God's timing or God's will… But sometimes it is.
Here are 5 things that can keep our prayers from getting through to God:
---
1 • UNCONFESSED SIN
"Surely the arm of the Lord is not too short to save, nor his ear too dull to hear. But your iniquities have separated you from your God; your sins have hidden his face from you, so that he will not hear." (Isaiah 59:1-2)
Is there anything in your heart you are trying to hide from God?
2 •  AN UNFORGIVING SPIRIT
"And when you stand praying, if you hold anything against anyone, forgive him, so that your Father in heaven may forgive you your sins." (Mark 11:25)
Is there anyone you are holding a grudge against?
3 • AN UNBELIEVING HEART
"But when he asks, he must believe and not doubt, because he who doubts is like a wave of the sea, blown and tossed by the wind. That man should not think he will receive anything from the Lord; he is a double-minded man, unstable in all he does." (James 1:6-8)
Honest doubt and concern is one thing, but has that turned into your confidence that God will not or cannot help?
4 • IMPROPER MOTIVES
"When you ask, you do not receive, because you ask with wrong motives, that you may spend what you get on your pleasures." (James 4:3)
Why are you asking for this… really?
5. BEING OFFENDED
"And because of their unbelief, he couldn't do any miracles among them except to place his hands on a few sick people and heal them." (Mark 6:5)
The word "unbelief" is actually the word for "offense."  Because they were offended… it short changed the miracles they received.  Jesus literally "can't" do miracles when we are offended.  Stunning.
Is there anyone or anything that has offended you… and you can't get over it?
---
So, next time you sense silence from heaven… Run this check list.
I recently did an entire message on this topic as well, and you can check it out here.
This article originally appeared here.