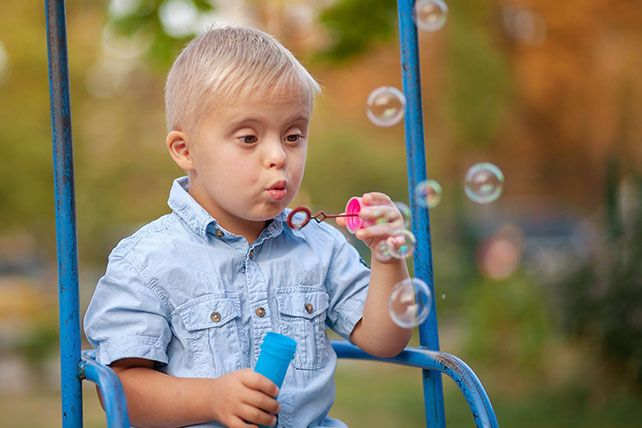 God Chooses the Weakest Things (And People)
For unto us a child is born,
to us a son is given;
and the government shall be
upon his shoulder.
(Isaiah 9:6)
In my earliest days as a minister—somewhere around my mid-twenties—an older mentor challenged me to "attempt something so great for God that it is doomed for failure, unless God be in it."
Embracing his challenge, I began to dream of great things for the future. I envisioned becoming the kind of leader whose ministry would produce scores of new disciples, plant growing and healthy churches, provide community and encouragement for key city leaders, and serve as a resource for kingdom impact beyond my own context. Eventually, if it all worked out, I would also be invited to write books, speak at conferences, and minister from a national platform.
"That," I would tell myself, "is something so big that only God can accomplish it…because I surely don't have what it takes to accomplish these things." Since that time, and by the grace of God, most of these things have occurred in my life and ministry. And yet…
And yet…
While such BHAG or "Big, Hairy, Audacious Goals" are not necessarily a bad thing, I'm not sure that the advice once offered to me by an older mentor is the same advice that I would give to younger ministers today. The older I get, and the more attuned I become to Scripture in particular, the more convinced I am becoming that the real action in God's kingdom is not so much on the big platform or in the halls of power, but rather through quiet, daily, ordinary faithfulness lived out in local communities all over the world.
It is true that God has in various seasons, and for his own purposes, raised up servants to accomplish great things on a grand scale. Almost all of the Ivy League Universities were founded by Christians, for example. Christianity has produced great leaders in science such as Pascal, Copernicus, Newton, Galileo, Meitner, and Collins, to name only a few. The same can be said of the arts and literature, with the likes of Rembrandt, Dorothy Sayers, Dostoevsky, T.S. Eliot, Flannery O'Connor, Makoto Fujimura, Johnny Cash, and Bono being guided in their creativity by their faith in Christ. There is also the world of healthcare, with all those hospitals named after a Saint, and history's most famous and impactful efforts toward social justice—William Wilberforce for the emancipation of slaves, Hannah More for her generous philanthropy, Dorothy Day for her journalistic activism, George Mueller for his leadership in the care of orphans, and Martin Luther King, Jr. for his sacrificial leadership in the realm of civil rights—all of whose efforts and achievements are a tribute to the power of Christ to heal the world.
Lastly, I would be remiss not to mention my former colleague and mentor, Dr. Timothy Keller, who recently made the Forbes list of the top fifty most influential people in the world. He was the only pastor named on that list.
These remarkable and unique examples notwithstanding, one still wonders if God's primary strategy for bringing his grace, truth, and power into the world is to do so less through extraordinary and grand means, and more through ordinary and small and everyday means.
Writing to a Corinthian church that valued the extraordinary and grand—they were people who valued things like celebrity, power, wealth, networking, and being among the movers and shakers—the apostle Paul wrote:
"Brothers and sisters, think of what you were when you were called. Not many of you were wise by human standards; not many were influential; not many were of noble birth. But God chose the foolish things of the world to shame the wise; God chose the weak things of the world to shame the strong. God chose the lowly things of this world and the despised things—and the things that are not—to nullify the things that are, so that no one may boast before him. It is because of him that you are in Christ Jesus, who has become for us wisdom from God—that is, our righteousness, holiness and redemption" (1 Corinthians 1:26-30).
The life of Jesus also challenges our "attempt something so great" approach to life and ministry. By choice and design, Jesus was born outdoors to two economically strapped teenagers who would soon become refugees. He lacked a formal education, he worked a blue-collar job, he never got married or had children, and he spent some of his adult life homeless. According to Isaiah, his physical appearance was so unimpressive that there was nothing identifiably attractive about him (Isaiah 53:2). Most people misunderstood and rejected him, and he was eventually abandoned by his closest friends. He died as a common criminal on a trash heap, having been regarded as an enemy of both synagogue and state.
As it was with the Apostle Paul, so it was with Jesus—if power was going to be made manifest in him—it would have to be through his weakness (2 Corinthians 12:7-10).
We can also learn from the lives of other, so-called heroes of faith from Scripture. As I was recently reminded by a letter written by a fellow minister to a struggling young man—Moses stuttered, David's armor didn't fit, John Mark was rejected by Paul, Hosea's wife was a prostitute, and Amos' only training for being a prophet was as a fig tree pruner. Jeremiah experienced depression, Gideon and Thomas doubted, and Jonah ran from God. Abraham, Isaac, and Jacob all failed miserably by telling lies—Indeed, Scripture is filled with real people who had real failures, real struggles, real inadequacies, and real inabilities.
And God shook the earth with them.
For it is not so much from our strength that God draws, but from his own, invincible might.
Perhaps it is this quality of God's—his affection for using the weakest vessels to accomplish his greatest work—that compelled Henri Nouwen to adopt the practice of what he called "downward mobility." Nouwen, a celebrated thought-leader and touring speaker based out of Notre Dame, and then Harvard, and then Yale, was in the prime of his career when he received and invitation from his friend, Jean Vanier, to lay aside his accolades and ascending fame for the purpose of pastoring a small community for the mentally disabled, called L'Arche (The Shelter). Nouwen's rationale for accepting this role—which many would view as career suicide—was as follows:
Scripture reveals…that real and total freedom is only found through downward mobility…The divine way is indeed the downward way…[Jesus] moved from power to powerlessness, from greatness to smallness, from success to failure, from strength to weakness, from glory to ignominy. The whole life of Jesus of Nazareth…resisted upward mobility.
What many people do not know is that some of Nouwen's most well-known, most impactful written works would be released into the world not from a grand stage or massive speaking platform, but rather from his more obscure, quiet life among disabled men and women at L'Arche, whom he had come to embrace as family.
I've also seen the "power of small" play out in my own community here in Nashville among the people of Christ Presbyterian Church. As anyone in our church would attest, the true celebrities among us—the ones whose lives and presence point the rest of us toward the glory and goodness of God most remarkably—are people who are open with their weaknesses, people with special needs, and people who are in the process of dying.
Two years into my role as senior pastor of Christ Presbyterian, I shared my own story of dealing with anxiety and depression with our congregation. At the end of the service, a man in our congregation approached me and said, "Scott, I want you to know that today is the day that you became my pastor. In the end, it won't chiefly be your vision or your preaching or writing that will bring hope to people like me. Instead, it will be the story of how God has ministered to you in your struggles."
I am not the first pastor through whom God has brought strength to others through the telling of his weaknesses. I was merely following the lead of the apostle Paul, who spoke of his grief over his coveting in Romans 7, and then his debilitating thorn in the flesh in 2 Corinthians 12. In both instances, God's power was manifest not only to Paul, but also to millions of other sinners and sufferers through history.
There's something powerful about confessing our sins and sorrows to one another and then bringing them into the light of God's healing grace, isn't there? What was true then is also true today—God's power is made perfect and is manifest—not chiefly through human strength but through human weakness.
Likewise, one of the greatest privileges I have is being pastor to a church with many children and adults who have special needs. This is a population to which our church has chosen to invest resources and give special attention. I firmly believe that the greatest beneficiaries of this investment are not the people among us who have special needs, but those of us who get to live a slice of our lives in their company.
I think of Katie who has Down Syndrome. She has the biggest smile and gives the longest and strongest hugs. I think of how she insists on a hug from me, her pastor, almost every Sunday. I think of how she lights up when I tell her she is beautiful, and how she sweetly reminds me that I need to tell her she is beautiful on those rare occasions when I forget. I think of how she hands me pictures that she has drawn—pictures that represent her profoundly simple and simply profound interpretations of my sermons.
I also think of William—who also has Down Syndrome and is autistic. William's parents are stretched fully and are on constant call working together to care for his needs. And yet, they never stop telling us how rich their lives are because of him. If not for William, they would know Jesus less. If not for William, we, too, would know Jesus less. Hand a box of Cheez-Its to William and you might not get it back. If you look away for even a minute he may have disappeared to another room. And he laughs at my jokes and gives me high fives and smiles ear to ear when our eyes make contact. He, like Katie, insists on giving me hugs. William, with full awareness, belongs. Though unable to articulate his thoughts clearly in words, he hands out bulletins at church, serves communion, and dances to hymns and worship songs. As he does all of these things—as he lives honest and true—he brings us all back to the truth. He brings us back to grace. He shows us the King and the kingdom that we would not be able to see clearly without the likes of him. He shows us that we belong, too.
The last demonstration of power I will speak of here, which is also perhaps the most remarkable, is people who suffer with hope instead of despair. I can think of so many men, women, and even children in our community who have faced some of the direst circumstances—Lou Gehrig's disease, dementia, cancer, divorce, betrayal, the loss of loved ones, and more—with tears of sorrow and protest on the one hand, and an anchor of hope on the other.
I think especially of Ben, a beloved school teacher who went to heaven way too early in life because of cancer. In his final days and as his body wasted away from the disease, he recited Scripture and sang songs of worship to God. When asked in his last moments if he wanted anything said on his behalf to his students, he said matter-of-factly, "Tell them that it's true. Tell them that it's all true. Tell them that the gospel of Jesus Christ…is true."
After Ben's death, and precisely because of it, a revival of faith and of renewed commitments to walk closely with the Lord took place among his friends, his colleagues, and his students. As it was with Samson, so it seemed with Ben as well—that he accomplished as much in his death as he had in his lifetime, by the grace and power of God working through his weakness (Judges 16:23-31).
So, for these and many other reasons—while the greater, more visible and grand-scale achievements in the kingdom deserve their due—perhaps now is as good a time as any to celebrate the way God intends to work through all of us versus only a few of us—through what the Apostle Paul called the glory of weakness, which is a quality that we all share, and which is the place where the true power of God resides most.
Indeed, not many of us were wise or influential or noble or powerful according to human standards when Christ called us. And yet, we are nonetheless poised—not in spite of our weaknesses, but precisely because of them—to shake the earth.
This article originally appeared here.