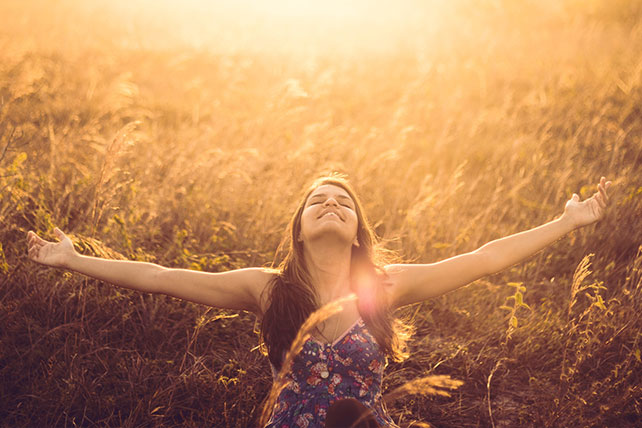 The last time Lisa and I bought a house we made a naïve mistake that we won't make again: we closed on the house with the builder promising to finish several items that weren't yet completed. He was a Christian, after all, and had even written scriptures into the frame of the house before finishing it. But he never did finish it, and his ability to stall exceeded our patience until we finally paid to have the rest of the work done ourselves. My wiser friends told me, "That's why you always hold some money back until the house is entirely finished." Such suspicion may be wise on earth but applied to heaven it's monstrous. One of the most worshipful things we can do is to try thanking God for blessings He has promised that we have not yet received. This has been such an encouraging spiritual practice for me that I'm eager to share it with you.
Thanking God for What He HASN'T Done
We can be thanking God for heaven even before we get there; we have Jesus' word that He is preparing a place for us (John 14:2-3). Thanking God for heaven now floods our souls with joy that we don't have to be afraid of death, and it reminds us that we don't have to mistreat ourselves (like some medieval monks and nuns did) or work ourselves to exhaustion (as legalists do) to earn it. All of us will be amazed by our eternal comfort, but why not squeeze a little anticipatory joy out of that comfort just when we need it most—today?
Lisa and I spent the last several years trying to "catch up" on retirement; we did what financial planners tell you not to do—reduced our retirement contributions to pay for our kids' college. We're not anxious—God has been generous—but in the midst of normal concern about stock market volatility and unforeseen expenses, it brings such peace to thank God for Philippians 4:19: "And my God will supply all your needs according to His riches in glory in Christ Jesus." It's appropriate to ask God to provide for us, but it's even more appropriate to thank God that He will: "I praise You that I don't have to worry about retirement. I thank You that You'll get me through all the way to my death and even take care of my loved ones after I'm gone. You've anticipated everything I can't so I can live with great peace and assurance. Thank You so much for that."
Let's say you're about to become a parent for the first time or get married, and you're concerned that you may be getting in "over your head." You can try thanking God for this promise: "Now if any of you lacks wisdom, he should ask God, who gives to all generously and without criticizing, and it will be given to him" (James 1:5). Pray like this: "Thank You Lord, that I don't have to face this alone; I thank You that You will provide the wisdom I need for every life decisions so that I can live with joy, peace, and assurance as I face this new future."
I took this a step further once and turned all my "long-term" prayer requests into prayers of thanksgiving. Though I haven't seen the answer to many of them, I do have this from the mouth of Jesus Himself: "Therefore I tell you, all the things you pray and ask for —believe that you have received them, and you will have them" (Mark 11:24). If I'm praying for anything that isn't according to God's will, I don't want that prayer answered my way—and I trust God to sort all that out. His job is to answer according to His will; my job is to be thankful for that.
If you have been praying for a son or daughter's return to the faith, try thanking God for bringing them back. If you have been praying for release from a sin, try thanking God for His strength and deliverance. If you have been praying about a financial situation, thank God for providing in ways you never even dreamed. If you have been praying for healing, you know you will be healed, one way or another, so thank God that you will not live with this for eternity—healing is certain.
This isn't presumption. One of the greatest compliments we can give someone is thanking them for a promise that has not yet been received but for which we have their word that it will be received. It's like paying an honest house builder for the entire house before he or she has even cleared the lot. We honor God when we thank Him for His declared promises even before they arrive and we flood our souls with joy at the same time. It's a win-win. Try it and you'll see.
This article on thanking God originally appeared here. Gary talks more about the virtue of thanksgiving in his newly revised book, The Glorious Pursuit: Becoming Who God Created You to Be.