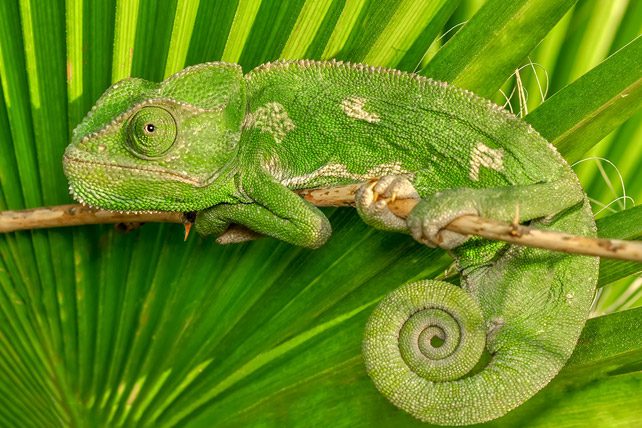 People are like chameleons. We're exceptionally good at hiding.
Why do we hide? Because rejection is simply too painful to bear. The chameleon in us—or what Brennan Manning has called the Imposter—is represented by multiple "colors" or masks that we use to hide ourselves and fit in. Most of us have a work self, an at-home self, an internet self, a party self, a church self, a bedroom self, and several other selves we depend on to keep us safe from exposure and attack.
Having so many pseudo-selves leads us to become dis-integrated people versus people who are integrated and whole. In all our changing of colors to blend in, we become living pictures of what Groucho Marx supposedly said: "Those are my principles. And if you don't like them…well, I have others."
We want to be liked, so we seek to do whatever we think that requires. Living to be liked seems like a safe way to live.
It's what pastor Jack Miller used to call being an "approval suck."
I'll admit it. I am an approval suck who really likes to be liked. I am a human chameleon who wants to feel safe in social settings, when being observed for this or that, and in every other situation. And so are you.
But how is the inner chameleon working out for us? Is it giving us firmer footing with more friends and deeper community? Or is it leaving us lonelier, more misunderstood, more ashamed, and more afraid? These outcomes may still feel acceptable for us because of what C.S. Lewis said about the risks associated with love:
To love at all is to be vulnerable. Love anything and your heart will be wrung and possibly broken. If you want to make sure of keeping it intact you must give it to no one, not even an animal. Wrap it carefully round with hobbies and little luxuries; avoid all entanglements. Lock it up safe in the casket or coffin of your selfishness. But in that casket, safe, dark, motionless, airless, it will change. It will not be broken; it will become unbreakable, impenetrable, irredeemable. To love is to be vulnerable…The only place outside Heaven where you can be perfectly safe from all the dangers and perturbations of love is Hell.
In an ideal world, the truths of the gospel will move us past the transparency hurdle, thus freeing us to shed our chameleon skin. Because our sins have been forgiven—and our chameleon hides protected—we truly have nothing left to hide. If God is for us, who can be against us? Because God has declared us to be blameless in his sight through the finished work of Jesus, we truly have nothing left to prove. With us, our Father is well pleased! Because God loves us dearly and nothing can ever separate us from his love, we truly have nothing to fear. We are his treasure! We are our Beloved's, and our Beloved is ours!
Even still, one remaining roadblock prevents us from entering into these realities and becoming free: We are chronic amnesiacs. Almost as quickly as we hear the good news that in Christ we have nothing left to hide, to prove, or to fear…we forget it. Punctured by our own fallen condition, the good news of Jesus leaks out of us constantly.
In a moment of transparency, Mariah Carey, one of the most successful artists in the history of pop music, said in an interview that if she hears a thousand words of praise and one word of criticism, that one criticism will eliminate the thousand praises in her mind.
Can you identify with this dilemma? I certainly can.