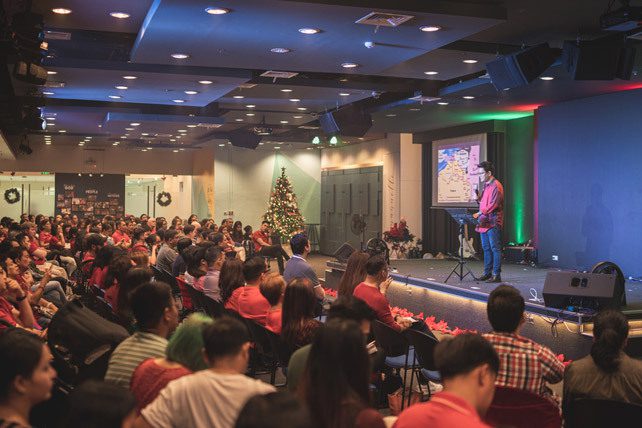 As Christmas quickly approaches, pastors and church leaders are preparing for one of the busiest times of year. Many are planning multiple Christmas Eve services and special events, strategizing about how best to connect with those who will be in attendance for the first (and perhaps only) time all year. 
And as church leaders are playing calendar Tetris, seeking to maximize their impact without double booking their churches or their families, many have wrestled with the fact that Christmas day lands on a Sunday this year. 
For some churches, it is a foregone conclusion that they plan to meet like normal every Sunday, regardless of what holiday may fall on it. Nevertheless, others are open to thinking creatively about how to adjust their regular Sunday schedule in light of Christmas.
Below are three ways to approach Christmas this year when it comes to your slate of Sunday services, along with some pros and cons of each. 
Meet Like Normal 
Many churches will opt to meet on Christmas Sunday with their regularly scheduled service or services. 
Pastors and leaders of these churches operate under the logic, "If Jesus is the reason for the season, then why would we not meet on the very day that is marked for celebrating his birth?" Further, they do not want to be found guilty of "neglecting to meet together, as some are in the habit of doing" (Hebrews 10:25), even for one day when it is tempting to take the day off of Sunday worship.
Thus, they plan on holding regular services full of Christmas hymns and a special Christmas message. 
The benefit of this approach, apart from keeping in line with a particular church's convictions, is consistency. Meeting on Christmas day can send the message that the church building is a place to gather and worship Jesus every single week, rain or shine. 
On the other hand, the number of people who are looking to attend church on Christmas day is dramatically lower than on most other Sundays, so pastors can expect sparse attendance, and it may be more difficult to secure volunteers for key positions in running the service. This can be discouraging for key leaders who are sacrificing more than usual to put on the service, so it is something worth considering. 
Adjust Your Meeting Time and Number of Services
Understanding that Christmas is a special time that most families want to spend together to exchange gifts and share a special meal, but still not wanting to completely cancel church services for the day, some churches will opt to simply adjust their service schedule on Christmas Day. 
This could mean that a church that normally offers three services will retract to one service. Or, if the church normally meets in the morning, they may opt for an early afternoon service, strategically placing it between meal times, so that church members can spend those special moments with family while still being able to attend a service. 
This approach may increase attendance slightly, and it will certainly make it easier for your leaders to secure volunteers. Further, it may also communicate to your leaders that while "doing church" is important, and the congregation has a conviction to meet every Sunday, the operation of church services need not come at the expense of important family time.