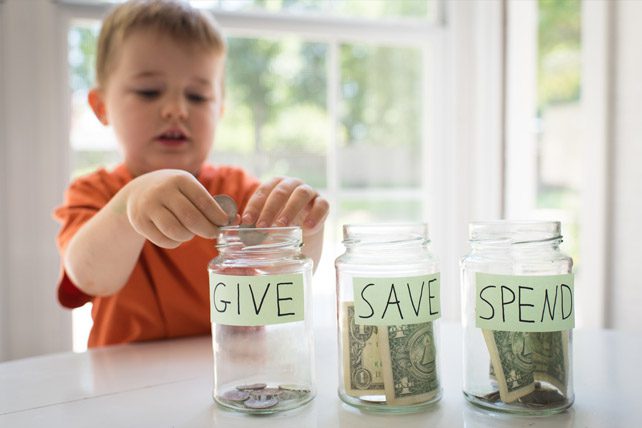 Jesus said, "There is more happiness in giving than in receiving" (Acts 20:25). This is the Good News Translation, and it correctly renders the Greek word makarios as happiness.
One of the greatest gifts we can give our children is freedom from materialism. How? By teaching them to be generous givers who know everything belongs not to them, but to God. And by demonstrating that greater joy is found in giving than keeping.
Giving statistics are bleak. They consistently show that older generations give away a higher percentage of their money than younger ones. We're failing to teach our children to give, and that failure will both rob them of joy and hinder the work of Christ around the globe.
When our girls were seven and five, I gave each of them three jars labeled "Giving," "Saving," and "Spending." Every time they received money from chores or gifts, they were to put at least ten percent into the giving jar, then distribute the rest between the other jars. Once they put money in the giving Jar, it was untouchable until they gave it to the Lord at church.
When they put money in "Saving," they could spend it only for something planned. But they were free to transfer money from saving or spending to giving, or from spending to saving.
I'll never forget the night I explained this system to my daughters. They were so excited they immediately distributed the money they already had between the jars. They used those jars for years. This simple system may have resulted in more financial education than anything else my wife Nanci and I did.
Many of us have become so immersed in our culture that we've lost the ability to discern what will—and won't—count for eternity. But Jesus commanded us to store up treasures in heaven, not on earth (Matthew 6:19-21). We put our treasures in Heaven by giving to build God's kingdom, not our own.
God entrusts riches to us, not to increase our standard of living, but to increase our standard of giving. When Jesus tells us to store up treasures in Heaven, He's saying, "You can't take it with you, but you can send it on ahead."
How can we pass these truths to our children? By example.
Over two decades ago my family began giving away 100 percent of the royalties from my books. When my youngest daughter was a teenager, we rode our bikes into an expensive neighborhood and admired the biggest, most beautiful house. When I saw the selling price, I said, "If we had kept the royalties from the last year and a half, we could pay cash for that house. Do you wish we would've done that?"
My daughter laughed. "Dad, it's just a house!"
Money didn't have a hold on her. She had learned it all belonged to God, and there was no greater joy than giving it back to Him. Keeping it would have gained us a nice house; giving it gained us an eternal investment.