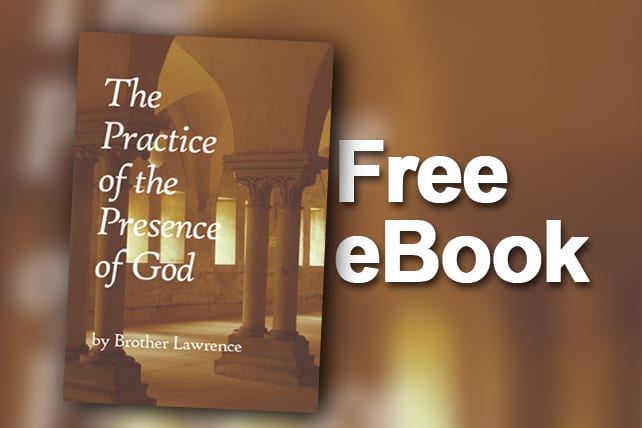 The Practice of the Presence of God
Get Free PDF Download Now
"The Practice of the Presence of God" by Brother Lawrence free PDF download provided by Project Gutenberg
Download Instructions: Follow the on-screen directions at the download site.
---
One of the most adored books on living in God's presence comes from an unlikely source— a man who was maimed as a young soldier and later became a footman "who was clumsy and broke everything."
That is the early life of Nicholas Herman before he became Brother Lawrence.
Herman was born around 1610 in Herimenil, Lorraine, a Duchy of France. His birth records were destroyed in a fire at his parish church during the Thirty Years War, a war in which he fought as a young soldier. It was also the war in which he sustained a near-fatal injury that left him quite crippled and in chronic pain for the rest of his life.
Brother Lawrence was educated by a parish priest whose first name was Lawrence and who was greatly admired by the young Nicolas. He was well-read and, from an early age, drawn to a spiritual life of faith and love for God.
Brother Lawrence Learned to Be in God's Presence While Doing Chores
At mid-life he entered a newly established monastery in Paris where he became the cook for the community which grew to over one hundred members. After fifteen years, his duties were shifted to the sandal repair shop but, even then, he often returned to the busy kitchen to help out.
While repairing sandals or working in the kitchen, Brother Lawrence discovered and then followed a pure and uncomplicated way to walk continually in God's presence. For some forty years, he lived and walked with God at his side.
It was not until after his death that a few of his letters were collected. Joseph de Beaufort, representative, and counsel to the local archbishop, first published the letters in a small pamphlet. The following year, in a second publication which he titled, 'The Practice of the Presence of God', de Beaufort included, as introductory material, the content of four conversations he had with Brother Lawrence.
In this small book, through letters and conversations, Brother Lawrence simply and beautifully explains how to continually walk with God, not from the head but from the heart.
Brother Lawrence also left the gift of a direct approach to living in God's presence that is as practical today as it was four hundred years ago.
The conversations between Brother Lawrence and de Beaufort covered many topics but most dealt with man's responsibility to continually commune with God:
Brother Lawrence related that we should establish ourselves in a sense of God's Presence by continually conversing with Him. It was a shameful thing to quit His conversation to think of trifles and fooleries. We should feed and nourish our souls with high notions of God which would yield us great joy in being devoted to Him.
He said we ought to quicken and enliven our faith. It was lamentable we had so little. Instead of taking faith for the rule of their conduct, men amused themselves with trivial devotions which changed daily. He said that faith was sufficient to bring us to a high degree of perfection. We ought to give ourselves up to God with regard both to things temporal and spiritual and seek our satisfaction only in the fulfilling of His will. Whether God led us by suffering or by consolation all would be equal to a soul truly resigned.
Brother Lawrence said that the worst that could happen to him was to lose that sense of God which he had enjoyed so long. Yet the goodness of God assured him He would not forsake him utterly and that He would give him strength to bear whatever evil He permitted to happen to him. Brother Lawrence, therefore, said he feared nothing.
The book includes 15 short letters written by Brother Lawrence during the last ten years of his life to a variety of long time friends.  They are the heart and soul of his ability to live in the constant presence of God.
The account I can give you is: Having found in many books different methods of going to God and diverse practices of the spiritual life, I thought this would serve rather to puzzle me than facilitate what I sought after, which was nothing but how to become wholly God's. This made me resolve to give the all for the All. After having given myself wholly to God, to make all the satisfaction I could for my sins, I renounced, for the love of Him, everything that was not He, and I began to live as if there was none but He and I in the world.
Sometimes I considered myself before Him as a poor criminal at the feet of his judge. At other times I beheld Him in my heart as my Father, as my God. I worshipped Him the oftenest I could, keeping my mind in His holy presence and recalling it as often as I found it wandered from Him. I made this my business, not only at the appointed times of prayer but all the time; every hour, every minute, even in the height of my work, I drove from my mind everything that interrupted my thoughts of God.
Brother Lawrence never advanced beyond being the cook at the Paris monastery, but he developed the unique gift of being able to pray incessantly with God throughout the entire day and regardless of whatever else he was doing.  This unique gift produced such a spiritual change in Brother Lawrence that many people sought him out to learn how to practice the presence of God themselves.