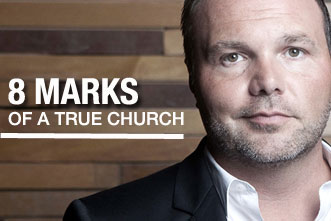 Editor's Note: Mark Driscoll is joining us next week for ChurchLeaders LIVE, a free online event to help recharge your ministry. Sign up today and we'll save you a virtual seat.
**
Is the church a group of people who gather at a coffee shop to talk about Jesus?
Is the church a group that worships together via the Internet?
Or is a church a social club reminiscent of a country club?
As Christians, we don't have the right to call just any group a church. Just because you talk about "Jesus," serve as a spiritual director for some youthful free thinkers, and use a Bible that would make even Thomas Jefferson cringe, that doesn't make you a church.
This even goes for those groups we're involved with that provide us with an emotional or "spiritual" benefit. The government knows this much and doesn't award tax-exempt status to just any church.
The Bible provides us with a framework to examine any self-identified church and test its legitimacy. The following are eight marks of a true church given in Scripture that I believe are helpful for many churches and church leaders.
1. The Church is Made Up of Regenerated Believers in Jesus.
Church membership is to be reserved for those who are regenerated in Christ (Acts 2:38-41).
The leadership of your church does this best by being involved in the life of the church. There should be a process by which your people are informally and formally examined.
Within the Bible, we also observe the importance of creating an environment by which nonbelievers and outsiders can participate in the church's activities (1 Cor. 14:22-25).
Children should also be welcomed so that they too can come into saving faith and then church membership.
At Mars Hill Church Sunday services, we provide children's ministry for kids up to about seven or eight years old, and we encourage parents to have their children be included in these activities so they can learn about Jesus in an age-appropriate manner, but parents have the option to have their children join them in our worship services at any age.