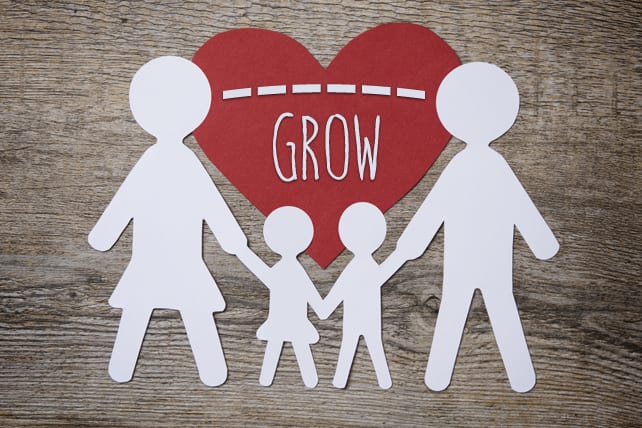 Is it possible to grow your marriage while having young kids?
My wife, Esther, and I live in a small parsonage next to our church. So does Isaiah. So does Naomi.
With biblical names like these, you'd think Isaiah and Naomi would be the ideal roommates. But we've noticed that Isaiah (who just turned 3) can be pretty moody, and Naomi (who just turned 1) has a powerful set of vocal chords.
I love being a parent, and we have awesome kids. They give me so much joy. But it's not always easy. Having kids permanently changes marriage. You try to have a conversation, and you're constantly interrupted; you plan time to connect and you're completely exhausted; you try to plan a date night and then realize how expensive a babysitter is. You get the idea.
Lately, I've been thinking about something my mom once said: Being a parent, for all the strains it can put on your marriage, also allows your marriage to grow deeper and richer. It's like going into battle with someone, coming home and then realizing what good friends you've become because you were in the trenches together. So I'm learning to see this challenging season as an opportunity for our marriage, not merely a phase to endure.
After my walk with Christ, nothing should take a higher priority in my life than cultivating intimacy and friendship with my wife—not even being a dad. In fact, I know I can't be the dad God calls me to be unless my marriage is strong. Here are some strategies we've reflected on that might be helpful to other young parents in a similar season of life.
10 Strategies for Growing Your Marriage with Young Kids
1. Kiss/hug/flatter your spouse intentionally throughout the day.
Let this be the first thing you do when you get home each day. I get mobbed by my kids at the front door, who want to wrestle. I want to give them attention, but I also want them to see that Esther is a priority that nothing can displace. Little daily installments of touch, affirmation and attention go a long way.
2. Shell out the money for babysitters and vacation, as much as you can.
It's expensive, but it's a worthy investment. When planning a date night, I often think, Can we afford this? But when we do it, I always think, I'm glad we did this—we needed it. It's so important to have times of laughter, recreation and play with your spouse. The old saying is corny but true: "Families that play together stay together."