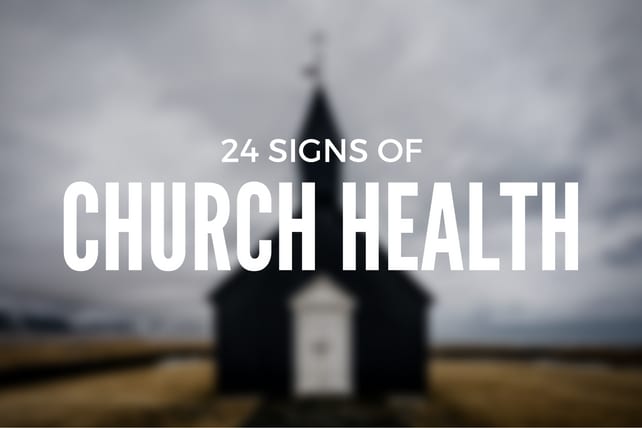 Recent statistics show that every year in the US, 4000 churches close their doors while only 1000 new churches are planted. Among existing churches, half did not add any new members to their ranks in the last two years. From 1990 to 2000, the combined membership of all Protestant denominations dropped by almost 5 million members, while the US population rose by 24 million.1
These are alarming statistics!
Each church that shuts down represents real people who have lost their church family. So if you are someone looking for a new church, someone wondering if their church is built to last, or someone who would love to help their church improve, here are 24 signs of a super healthy church.
(Notice these are just signs. I don't get into how to accomplish these healthy indicators in this article. These are just descriptions of 24 observable things a healthy church will do. The goal here is to help you identify what a healthy and unhealthy church will look like. These signs are in no particular order, though I personally believe number 1 and number 24 are most significant.)
1. Expository Preaching
When Christians hear the words "expository preaching" they usually think of line-by-line, chapter-by chapter, book-by-book preaching. But what expository preaching means in its most basic form is that the point of the sermon is the same point of the Bible passage being taught.
To accomplish expository preaching, it's easier to preach systematically through a book of the Bible. But it's not impossible to preach topically while being expository. As long as specific Scriptures are driving the content of the sermon, your church will be super healthy.
Huge problems arise when pastors preach their opinions, or preach messages that are Christian but not related to that Sunday's Bible passage. God gave us his word so his Church would have a clear light for its path. A church that is loose on unpacking the truth found in the whole canon of Scripture will not be healthy.
2. A Clear Discipleship Path
A church is super healthy when you can walk through the doors and get a clear answer to this question, "How are the members and attenders of this church discipled?" Some churches emphasize small groups, classes, one-on-one mentorship, or some combination of methods like these. There are pros and cons to each discipleship model, but what's most important is that there is a clear path for spiritual growth for anyone who wants to put the work in. A confusing, ambiguous, ever-changing discipleship model is a sign of an unhealthy church.
(Matthew 28:19-20, 1 Corinthians 14.40″>40)
3. Utilization of the People's Gifts
There's going to be times in church life where there is a real need for someone, just anyone, to fill holes in the volunteer roster, especially when the church is just getting started. But a sign of a healthy church is when leadership seeks to identify the gifts within the body of the church and then utilizes those gifts.
Churches that treat everyone the same are unhealthy and show that they care more about accomplishing their own goals than developing their people in Christ. A church will be super healthy and happy when the majority of its people are serving in areas that correspond to their God-given gifts and desire.
4. Gender Diversity in Public/Leadership Roles
This point is not about male and female pastors, an important topic for a different article. But whatever your church believes about the pastorate, there are countless other roles in the church that both men and women should fulfill. If you walk into a church and the preacher, the band, the staff, and all other visible leadership roles are only one gender, it's a sign someone who has authority in the church has an unhealthy understanding of the value God places on both men and women within the church.
5. Racial Diversity
Racial diversity is a no-brainer. If your church only targets a certain race, it's not accomplishing the heart behind the Great Commission. Now to be fair, for reasons outside of many churches' control (such as geographical location) sometimes a super healthy church will still have a greater population of one race compared to another. But a healthy church will be showing signs of reaching out to people of all shapes, types, and colors. Their staff, leadership team, and key volunteers will reflect the diversity God desires within his church.
6. Cultural Diversity
Notice the difference between racial and cultural diversity. There's a huge difference between someone's biological makeup and the culture they've grown up in. Again, for reasons that are not sinful, every church will probably have one cultural influence that is greater compared to others. A suburban church will have a different cultural feel than an inner-city church. To act like both should be the same culturally would be naive. They should be the same biblically, but the Holy Spirit can work through any culture (unless inherently sinful beliefs or practices are worked into that culture). Each church is uniquely gifted to better reach a certain lost people group compared to other cultural groups. This is just a reality to be embraced.
But a healthy church will not confuse their culture with Christianity. Christianity is not cultural. It is the truth that can permeate any culture, using what is good in that culture and destroying what is sinful within that culture. A healthy church will seek to celebrate, embrace, and encourage cultural inclusiveness and diversity. If a church is afraid of other cultures and looks down on them, it is not a healthy church.
7. Economic Diversity
Again, race, culture, and economic status should be viewed differently within the church. To assume one race or culture is always rich or poor is an unhealthy view of reality. Throughout the pages of Scripture, God instructs his church to never show favoritism, including economic favoritism. For geographical reasons, most churches will probably have many people of similar economic status, but this should not be by design. A healthy church should never have only one economic status within their membership ranks. Whenever possible, a healthy church goes out of its way to embrace people regardless of their wealth or lack of wealth.
8. Age Diversity
A healthy church will do all it can to reach people of every age. A very clear sign of a dying church is a church that is literally dying off. A church cannot survive long-term if its members are not inviting to younger generations. And if a church is full of young people, it will lack the wisdom that can only come with living many years. A healthy church will be full of young people who want to be around older people, and older people who want to be around younger people. A healthy church will teach its members to celebrate the gifts and perspectives of both the younger and older.
9. Children Will Be Prioritized Equally With Adults
A healthy church sign is when the whole family is prioritized. Children are humans, and God loves humans. A church that gives its B-team to the kid's ministry is not healthy. A healthy children's ministry will be fun, but more than that it will teach kids the Scriptures, helping them to have a personal relationship with Jesus Christ. Certainly kids should be treated differently than adults, but a healthy church will treat them with equal value and spiritual concern.
10. Regular Overseas Mission Trips/Missionary Support
Not every Christian is called to travel overseas with the gospel. But the local church is a part of God's universal church, and the global church has been called to reach all people everywhere with the gospel. If the local church does not have a concern for unreached people groups or nations where the gospel presentation is limited, then God's global church will be lacking here too. A healthy church invests time, people, and resources to help the whole world come to the saving knowledge of Jesus Christ.
This is a strong sign of a healthy church because supporting global missions often does not help the church in a visible, immediate, self-centered way. It's encouraging for the church to hear reports from overseas missionaries, but it doesn't impact the church in many visible and direct ways. But a healthy church does things for God, not for visibility sake.