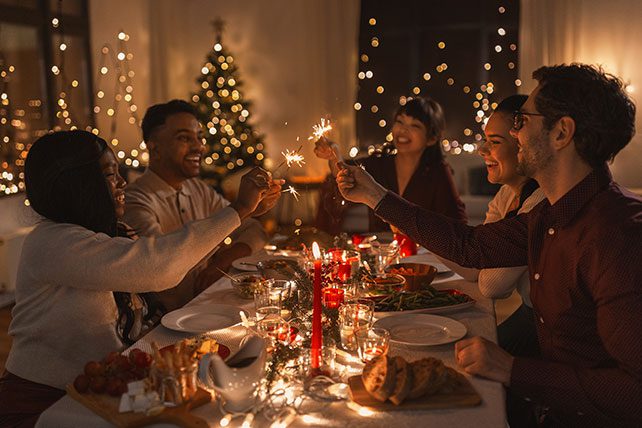 Many groups struggle with meeting and studying over the holidays, and this can be detrimental to the health of your group.  Do you have a small group Christmas Christmas strategy?
Not only that, but this is a prime time of the year to help your group members grow in their faith as well as to reach out to and invite new people. Perhaps your group will take a break from your normal schedule, but that's no reason not to keep meeting. Here are 12 ideas for how your small group can get the most—and give the most—this Christmas. Pick one or two of these to do as a group!
12 Ideas for a Life-Changing Small Group Christmas
1. Start New Traditions.
For most of us, the holidays are about traditions: eating huge meals together, taking a drive to see the lights, decorating the house, going to local events and, of course, going to church services. Why not invite those from your group or others who are lonely to join you in some of your traditions? One Thanksgiving, I got to know a young man named Mark who lived at a homeless shelter. I invited Mark to family and church events during the holidays, and he enjoyed spending time with us. We also invited him to our small group gatherings, and Mark excitedly jumped right in. Mark had many needs, some of which we could not provide for, but we could reach out to him and offer him friendship, hospitality and the love of Jesus. My family, my group and I also benefited from inviting Mark into our traditions. His presence with us made those traditions even more meaningful for us. It's easy to sing "Go Tell It on the Mountain"; it's another thing to go tell a homeless person that Jesus Christ is born.
Start new traditions with your small group. Each year several groups at Northeast Christian Church in Louisville, Kentucky, help provide holiday meals for families who would otherwise not have a nice meal. They not only buy it, but they deliver it and pray for the families. Many of the groups at Northeast also work with Operation Christmas Child each year. One group basically "owns" this event, organizing it months in advance, helping collect shoe boxes and running the distribution center on our church property. Your small group tradition can be little or big; what matters is to do something together for the least of these.
2. Study the Gospels (All of Them)
Christmas lessons tend to rely on the narratives from Matthew and Luke, but there are many other alternatives, of course. Peter Mead (www.biblicalpreaching.net), a missionary and writer, suggests studying all four Gospel introductions, for instance. Introduce group members to Matthew's introduction and then Mark's. Discuss why Mark didn't use the birth narrative, but jumped directly to the days leading up to the start of Jesus' ministry. Then summarize the visitations, prophecies and narrative of Luke 1 and 2. Wrap it up by studying and discussing John 1:1-18, which portrays beautifully the why behind it all.
3. Experience Christmas Anew.
This is one of the most wonderful times of the year to grow together in your understanding of the gospel story. The Christmas Experience Small Group Study, from City on a Hill, is a great place to start. This is more than just a nice Christmas study; I believe it will be an experience you and your group will remember for a long time. Kyle Idleman brought out insights I had never considered and helped me see this very familiar story in new ways. More than that, however, as I watched the dramatic presentation of the Christmas story, I was moved in ways I didn't expect. As your group experiences this material, I believe they will be moved as well, and they will grow not only to know the story better, but to know God more intimately.