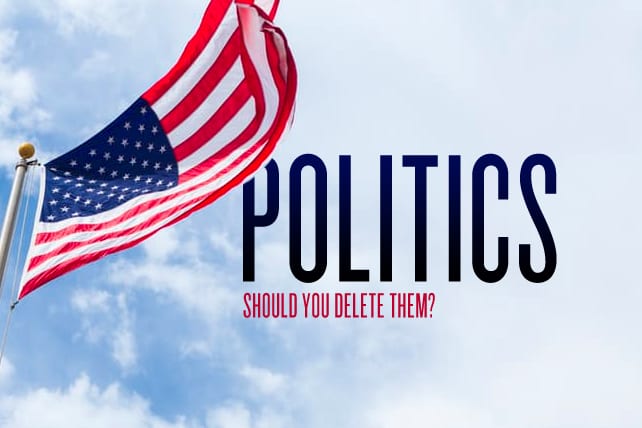 I was texting with some friends while watching the daily White House briefing over my lunch break last week when I made the decision:
"I am going to delete politics from my life, " I said.
That was a bit of an overstatement, but it's what I wanted to do in the moment. It's a bit difficult, and irresponsible, to delete politics from your life entirely.
But I decided in that moment that I was going to delete them from my digital life as much as possible.
Why Would I Delete Politics From My Digital Life?
Contrary to what you may think, the desire to delete politics from my life did not come from a politician saying something silly or doing something offensive.
I decided I wanted to delete politics from my life when I hopped on Twitter or Facebook and couldn't avoid, "Donald Trump said ___________," or, "___________ said __________ about Donald Trump's actions."
I was disgusted by the amount and tone of the coverage.
Politics have fascinated me for as long as I can remember. When I was in the eighth grade, I wanted to be President of the United States, and I was dead serious. I was going to go to West Point, become a lawyer, then a senator, then President.
But I decided this week that I no longer want politics to happen to me. I want to engage with political discussions on my own terms, not my Twitter timeline's terms, which bombarded me with political content every hour of the day.
Spiritually-speaking, I was reading a lot more articles about political happenings than I was praying prayers about what was going on. I thought I should spend less time consuming and more time praying, too. That was certainly part of my decision-making on this.
When I told my friends I was going to do this, the first thing one of them said was, "Well, being apathetic is as bad as being raging mad." Maybe, but deleting politics from my digital life is not being apathetic—those are two different things.
I want to be politically-informed, but I don't want to hear what you think about politics, I don't want to know what Washington Post columnists think, or Slate columnists think, or what Jake Tapper thinks, as much as I respect Jake.
I want to know what happened, but I don't care to know what anyone thinks about what happened, and I no longer care to share what I think about what happened.
I want to be completely ignorant of what my Twitter people think about politics, and I want you to know as little about what I think as possible. Honestly, politics have become more divisive than unifying, even among friends and co-laborers in Christ, and the fight really just isn't worth it to me anymore. Thankfully, it's not a mandatory fight, online anyway. You can just dismiss yourself; so I did.
I subscribed to a paper version of the Wall Street Journal with some unused airline points, but I unfollowed dozens of accounts on Twitter and Facebook. I can't stand the bombardment anymore.
How Do You Delete Politics From Your Digital Life?
To some of you, this exercise probably sounds appalling.
To some of you, this may sound appealing.
For those of you who would also like to delete politics from your digital life, here's what I did:
First, I unfollowed all major news organizations: ABC, CBS, CNN, Fox News, AP, the Washington Post, the New York Times, the Atlantic, Mashable, USAToday, Buzzfeed, Slate, The Daily Beast and more.
Second, I unfollowed all of the politicians' accounts I was following: @POTUS, @WhiteHouse, Sean Spicer, Ben Sasse, etc.
Then, I basically unfollowed anyone on Twitter that popped up in my timeline talking about politics more than anything else, whether they are usually talking about that or not.
Finally, I unfollowed and muted a few friends who I really like, but simply couldn't take the political bombardment of content from any longer.
I've only been at this for about a week, and my Twitter timeline and Facebook feed are glorious portals of informative, interesting content completely devoid of political ranting or unnecessary information.
The other night, all of my friends were tweeting things about Australia and how they hope Australia doesn't hate us now. I still have NO IDEA what they were talking about, and I couldn't be happier. Because I don't have to know what happened to live a fully-functional, Christ-seeking life. It's taken me a long time to learn that.
I have always prided myself on being the first one to know world happenings. I always want to be the first to know. It's why I love Twitter.
I'm done with that, at least when it comes to politics. It's just not worth it anymore.
What is going on in Washington seems to have become the core around which everything rotates in this digital merry-go-round of information and opinions.
I've decided to stop watching.