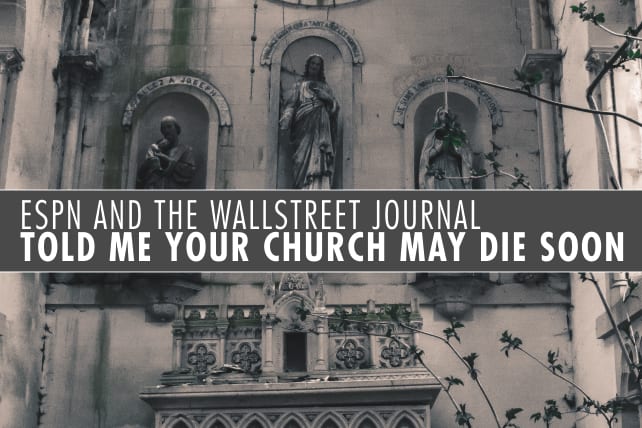 Maybe the headline is a bit hyperbolic, but your church definitely might start going downhill soon, if you follow the lead of ESPN and The Wall Street Journal. It is hard to point to a precise time, but my loyalty to the "Worldwide Leader in Sports" (ESPN) has waned considerably in recent years. The increased liberal leaning of a sports network has been a major part of my transition away from the Bristol-based sports mozette. When I watch highlights or listen to sports talk, I want to escape from the political bifurcation of society, not fall deeper into it.
HERE'S WHAT HAPPENED
Sadly, ESPN has fallen on hard times as of late. In 2013, they let go of 400 employees. In 2015, they let go of approximately 300 employees. In 2017, they are about to have another round of layoffs in order to free up tens of millions of dollars.
Similarly, The Wall Street Journal has had waves of layoffs in 2016 and 2017. Reports state that the personnel transitions have significantly impacted their industry.
HERE'S HOW THIS RELATES TO CHURCHES
What does this have to do with local church ministry? Here's the deal: ESPN and The Wall Street Journal were once new, fresh, nimble and lean. Over time, however, they built an infrastructure that required many staff members and expectations that were hard to hold up for the long haul.
In February of 2016, ESPN inked a new deal with the NBA, totaling a whopping cost of nine years and $24 billion. They're seriously regretting this deal, just one year into it, and it is going to bleed them dry. Their ratings are down 8.2 percent, which results in fewer advertising dollars to pay for the same amount of money on the bills. In fact, their bills only get higher because their contract escalates (think of it like an adjustable rate mortgage that balloons).
I think of many churches who were nimble, growing, innovative and popular, but after building a big infrastructure, and things started slipping a bit, it was hard to do anything but fall into the quagmire of big buildings, bloated staffs, crippling debt, and it becomes a house of cards.
Before Church of the Highlands replanted, Highland Park Baptist Church in downtown Chattanooga was in this exact situation. It killed the church. I've experienced the cleanup of this kind of complicated concoction of discombobulated ecclesial ludicrousness.
HERE'S HOW THIS APPLIES TO YOU
You can structure the church you lead to avoid this situation. ESPN and The Wall Street Journal are bloated and lack nimbleness. You can learn from this, especially in the areas of finances, facilities and personnel.
FINANCES: Avoid crippling debt. I understand that sometimes you have to go into debt. However, there is a big difference between going into debt and going into crippling debt. Debt removes nimbleness.
FACILITIES: Leverage every square foot of your buildings before adding more space. Once you build space, you have to keep up with it, heat and cool it, and clean it.
PERSONNEL: Keep your staff as lean as possible. A heavy staff line item leads to extreme awkwardness when trying to trim the financial fat.
ESPN and The Wall Street Journal should teach church leaders that we must work hard to avoid becoming bloated bureaucracies who fail to adapt. Become nimble, lean and healthy. Then, enjoy the fruits of a longer life as a church family.
This article originally appeared here.