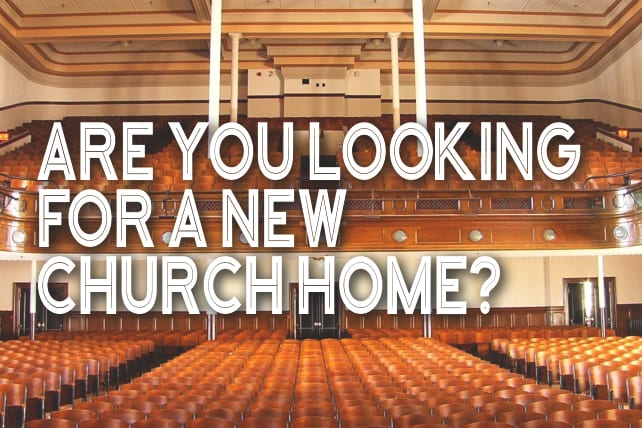 Each week at PowerPoint Ministries, we hear from people seeking a new church home. Some have moved to another city or state. Others hope a new church will reignite their faith.
Many are looking for the perfect church. The trouble is, a perfect church doesn't exist. And as one old preacher used to say, "If you ever find one, don't join it or you'll ruin it!"
But that doesn't mean you can't find a body of believers you can grow with, worship with and serve with for God's glory.
If you seek God's will and pray for guidance, you'll find a church that offers what you need, especially the teaching, programs and activities that will keep you and your family growing in your faith. And you'll be more inspired to invite unsaved friends along.
But first, let's consider what a church should be. Indoor play areas and super-cool coffee bars are great; but remember, they aren't core functions of the church.
Instead, focus on the foundation, particularly how the church views Scripture. Does it believe the Bible is the inerrant and inspired Word of God? Is the preaching filled with feel-good platitudes, or is there a strong commitment to solid biblical teaching? Are visitors welcomed as brothers and sisters in Christ?
Thousands of churches call themselves "Christian," but it isn't always easy to find Jesus there. When you visit a church, ask where it stands on the tenets of the Christian faith—the virgin birth and the divinity of Jesus; His birth, death and resurrection; His promised second coming; and salvation by faith alone.
Finally, what happens after the service ends? Do members of the congregation actively live out their faith? Or do they tuck it away with their Bible until the next Sunday? James 1:22 says, "Be doers of the word, and not hearers only, deceiving yourselves."
God doesn't want His children to travel through life alone. He wants us to be a part of something larger, where we grow in His Word, find friendship and support in our journey of faith, and shine together for Christ. That's what He designed church to be. As part of a church centered on Jesus, we minister to one another. As Proverbs 27:17 tell us, "Iron sharpens iron, and one man sharpens another."
Focus on finding a strong Bible-believing church and become an active part of it. Serve in any way you can. Grow in your faith. Bring others to Jesus. And do it all for the glory of God.
You can be sure we're praying for you to find the right church home!
This article originally appeared here.