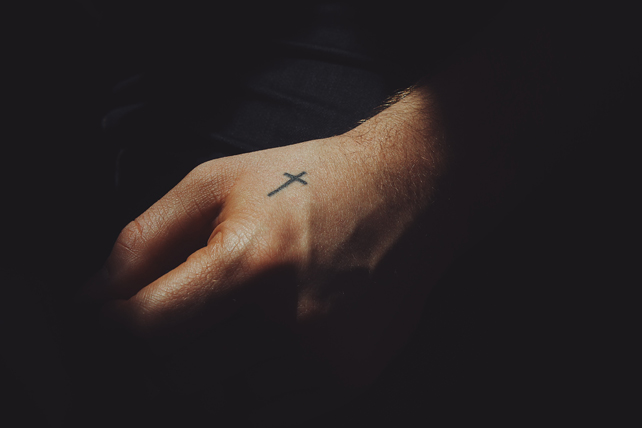 I walked through my first Lent in 2004. I had been raised and later ministered in a church that didn't observe Lent. This was all new to me.
On Ash Wednesday, I entered a darkened worship space. The Rector (Senior Pastor) was seated up front. He was wearing all black. Everyone was silently praying. We stayed like that for what seemed like an hour (it was actually only about five minutes). The pastor stood up and announced that Lent had begun. He announced that the church was calling us to the annual season of repentance. He reminded us that repentance is only possible because of God's grace.
Then, after our prayers and Scripture readings, we lined up to receive the imposition of ashes. I watched as the pastor first knelt to receive the ashes himself, symbolizing the universal need for repentance. One by one each of us in the congregation knelt, receiving dark ashes pressed onto each forehead in the shape of a cross.
As we continued through the season of Lent, the next 40 days plus Sundays, we read of John the Baptist, the prophecies of Isaiah, the temptation of Christ in the wilderness, and of the passion. I was instructed to give something up for Lent, and to fast on Fridays.
As a congregation, together with Christians all around the world, and like Christians who have gone before us, we walked through Lent and then Holy Week together.
And when Easter Day came that year, my experience of the celebration of the Resurrection of our beloved Lord Jesus Christ was changed forever.
While this was all new to me, it is not new at all for most Christians in history or in the world today.
What Is Lent?
Lent began in the early church as a period in which catechumens (people being taught the Christian faith in preparation for their baptism) fasted and prepared for their baptism on the night before Easter morning.
As this practice developed everyone in the congregation began fasting and repenting together, because humility and repentance should be a part of every Christian's life. Across the Christian world, this practice spread. Eventually it was associated with the 40-day fast of Jesus in the wilderness. This became an important part of the Church Year.
 Why Observe Lent?
The Church Year is a cycle of fasts and feasts, celebrations and practices that walk a congregation through the life of Christ together. This allows for us to not just hear Scripture read about Jesus, but to actually practice disciplines that tap into all of our senses, and every part of our lives. And the beauty of these historic practices is that we do them together. We are being shaped into Christ's image as a community.
And the Church Year also enables us to understand and draw from the experience of believers who have gone before us. In my first Lent, I read sermons written about Lent by Chrysostom. I was amazed about how his experience of fasting and repenting so matched my own. I felt like he could have written the same things in our own day and it would have been just as relevant.
This Church Year begins in Advent (four weeks before Christmas) and that prepares us for Christmas, which then flows into Epiphany. Lent is our preparation for Easter, which then flows into Pentecost. You see, both of the two major Christian feasts (Christmas and Easter), have a season of preparation before them.
Sadly, many churches have dropped off the preparation seasons completely. Christmas is celebrated before it starts, and Advent is skipped. Lent is often ignored, and so Easter just arrives one day. There isn't a sense of humbling and preparing, and praying to get ready for these wonderful days.
So restoring the practice of Lent prepares us better for Easter, it reminds us to repent, and it reconnects us with the experiences of fellow Christians around the world and in our past.