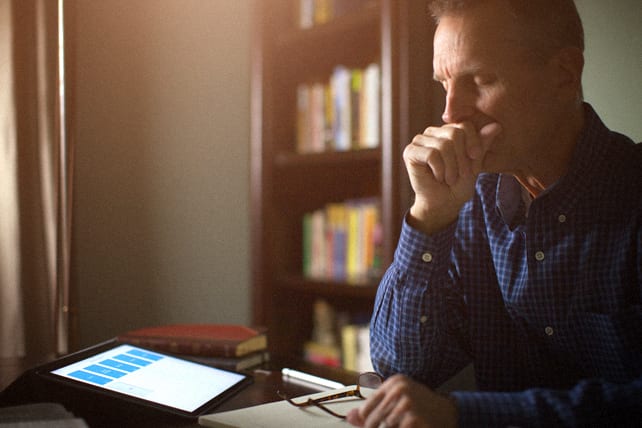 Have you ever had a time when you've written Sunday's sermon and at some point, before you preach it, God grabs your heart and wrecks you? Have you ever had a moment when God reveals someone to you who is in the midst of a storm and really needs the truth of that week's text to seep into their heart? It's in those moments that we realize that this Sunday's message isn't just another sermon, it's life or death, freedom or bondage, hope or despair. But…
I don't know about you, but my experience has been that when I'm behind and rushing to get Sunday's message done, those moments happen less. My hunch is that when I'm rushing and just trying to get something written out, my head and heart have the volume turned to the max and the pedal to the metal. In those weeks, it's hard to take time to reflect. It's hard to take time to listen in prayer, to be still and know that He is God. When I'm rushing, prayer is a pleading for something, anything. But there is a better way.
The Importance of the Simmer Day in Sermon Preparation
I have come to realize that I need margin in my sermon preparation process. I need a day after the message is written when I can put it away, not look at it and not think about it consciously. For me, that day is about to change because we are launching a Thursday service (identical to our Sunday services—it will be the first one of the weekend), but for now, my simmer day in sermon preparation is Friday.
I have my own deadline: I get my message manuscripted by Thursday. This gives me Friday to keep the sermon put away and not look at it. Saturday night, I revisit it, review it and put together my preaching notes.
But you may be wondering…
What does the simmer day actually do?
The simmer day allows me space to get out of "sermon mode" and trust that God will do what He wants to do. It allows me to have some relief from the pressure that comes with preaching. And what I've found to be the difference maker is that the margin invites the Holy Spirit to work on me in a deeper way as the time to deliver the sermon draws closer.
The simmer day functions very much like a Sabbath for the preacher. It's the day to put it all down, to go and spend time with family, friends or the community. To be sure, the message is on our mind throughout the day, but it seems that after this important day, the message begins to seep into our hearts.
The Preacher's White Space
Good design includes white space. It's the margin on a paper where no words live. It's the logo design that includes more than words.
White space is breathing space. White space is praying space.
We need it in our days to stay fresh and we need it in our weeks of sermon prep to keep from hijacking the sermon—making it ours and not God's.
But how can we make room for this?
Well…
4 Tips to Get Ahead in Sermon Preparation
In order to be able to have a simmer day, we must get ahead in our sermon prep. Not only for the week coming up but for the weeks and months ahead.
Here are some tips to get you on the right track so you can create margin in your week.
Be intentional – Block off sermon prep time on your calendar. Don't schedule meetings during these times if you can help it. And many times, you can.
Plan ahead – We're big advocates of mapping out your entire year.
Build a team – You don't need to do sermon preparation alone, building a team can be a tremendous blessing.
Give yourself a deadline – Don't let it be Sunday.
Do you already have a simmer day built into your week?
This article originally appeared here.